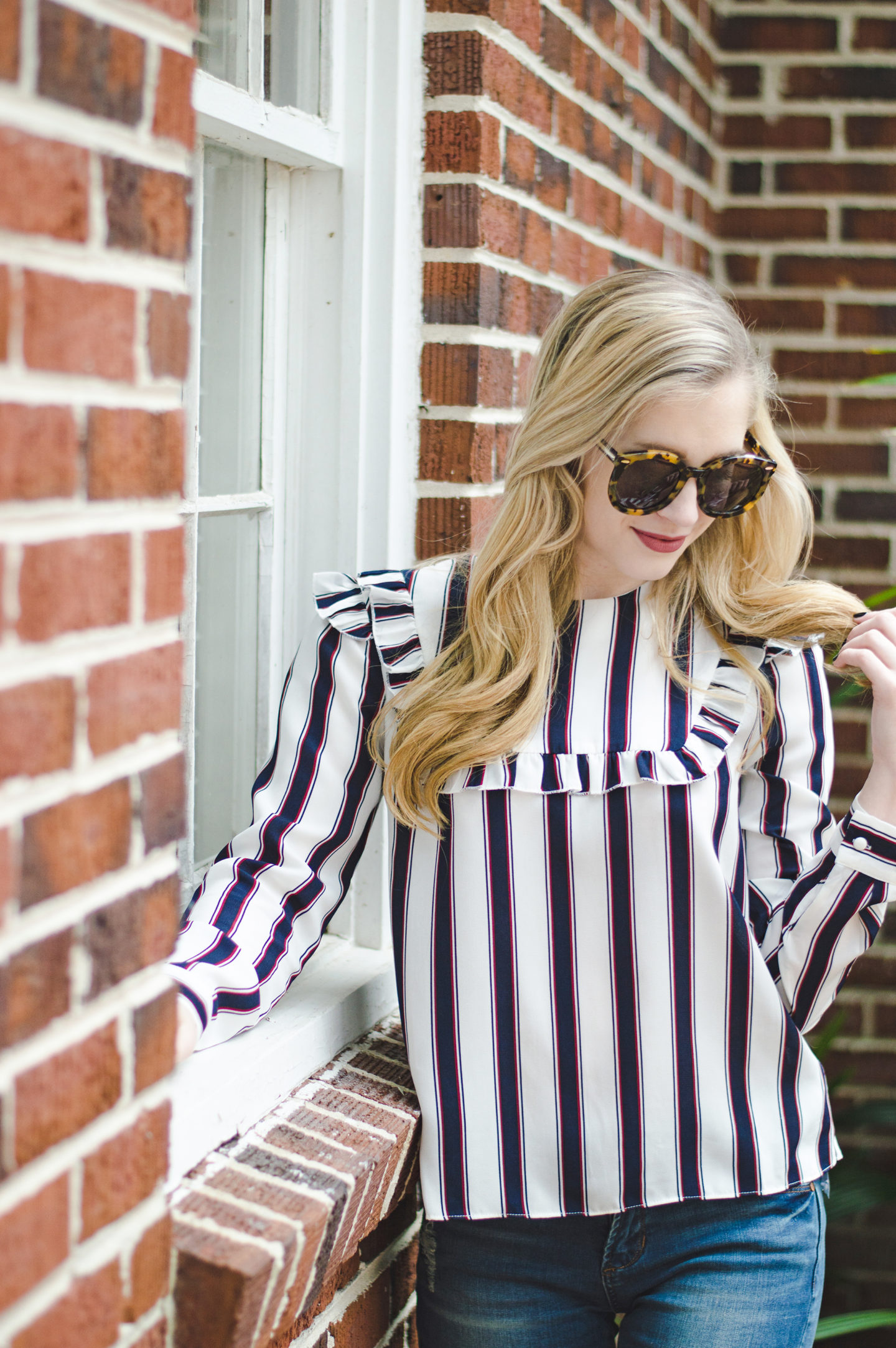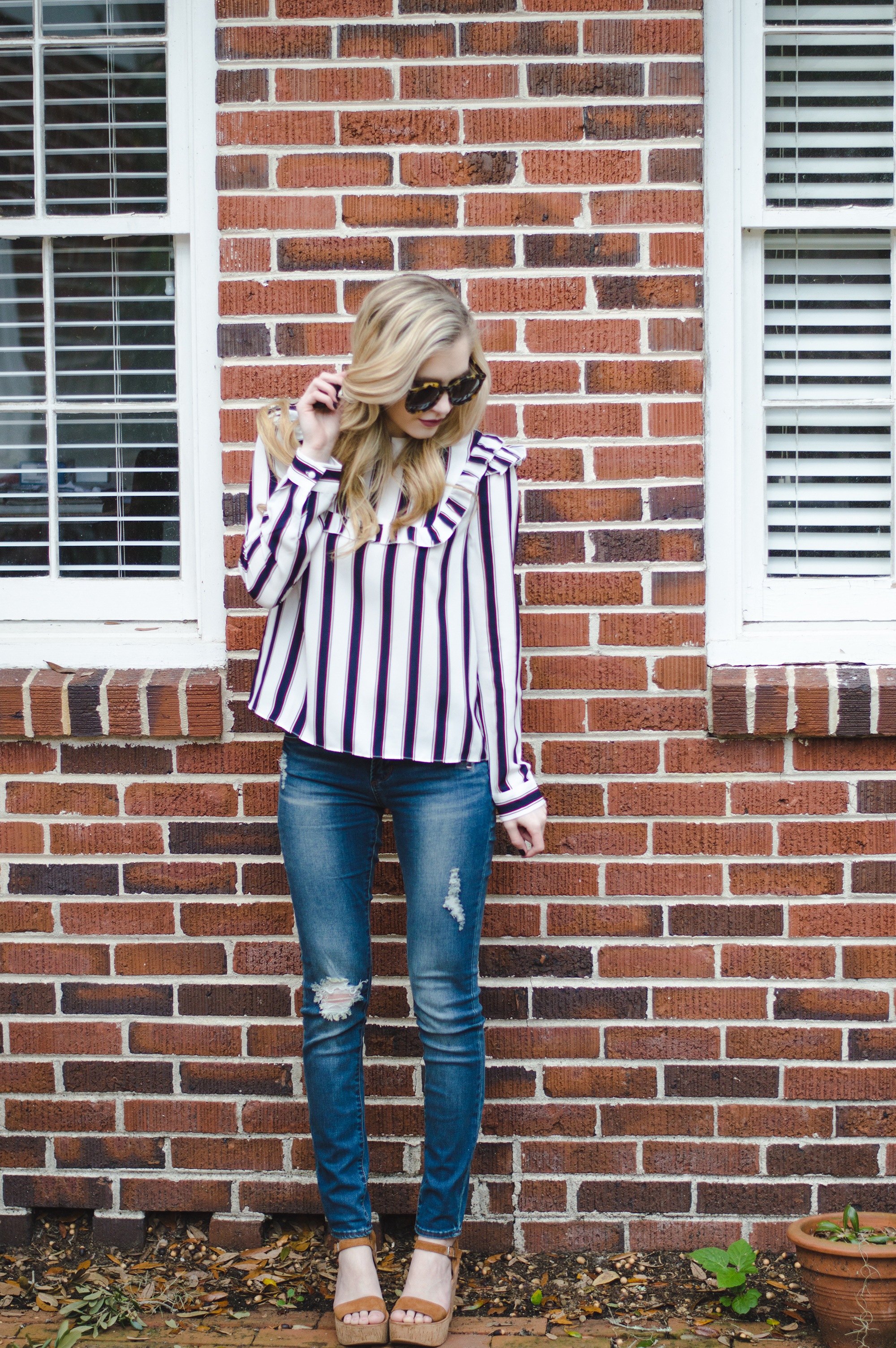 TOP: SMAC (I also really like this one) | DENIM: SMAC <— only $63! | SANDALS: Dolce Vita | SUNNIES: Karen Walker
That's Right Y'all, I'm Back!
After going on my miniature hiatus, I'm back. School started last week, so I took a break to get myself settled in for the semester. Anyway, I have SO much to talk about in this post—including a huge event happening this week and what's been going on in this insane life of mine! Stay tuned if you're ready for this roller coaster ride of a blog post! I'll give you a little hint: tomorrow is National Compliment Day! If you check out Shop SMAC's website, they'll tell you all about it. You can even join in on their super fun campaign! #SMACthecity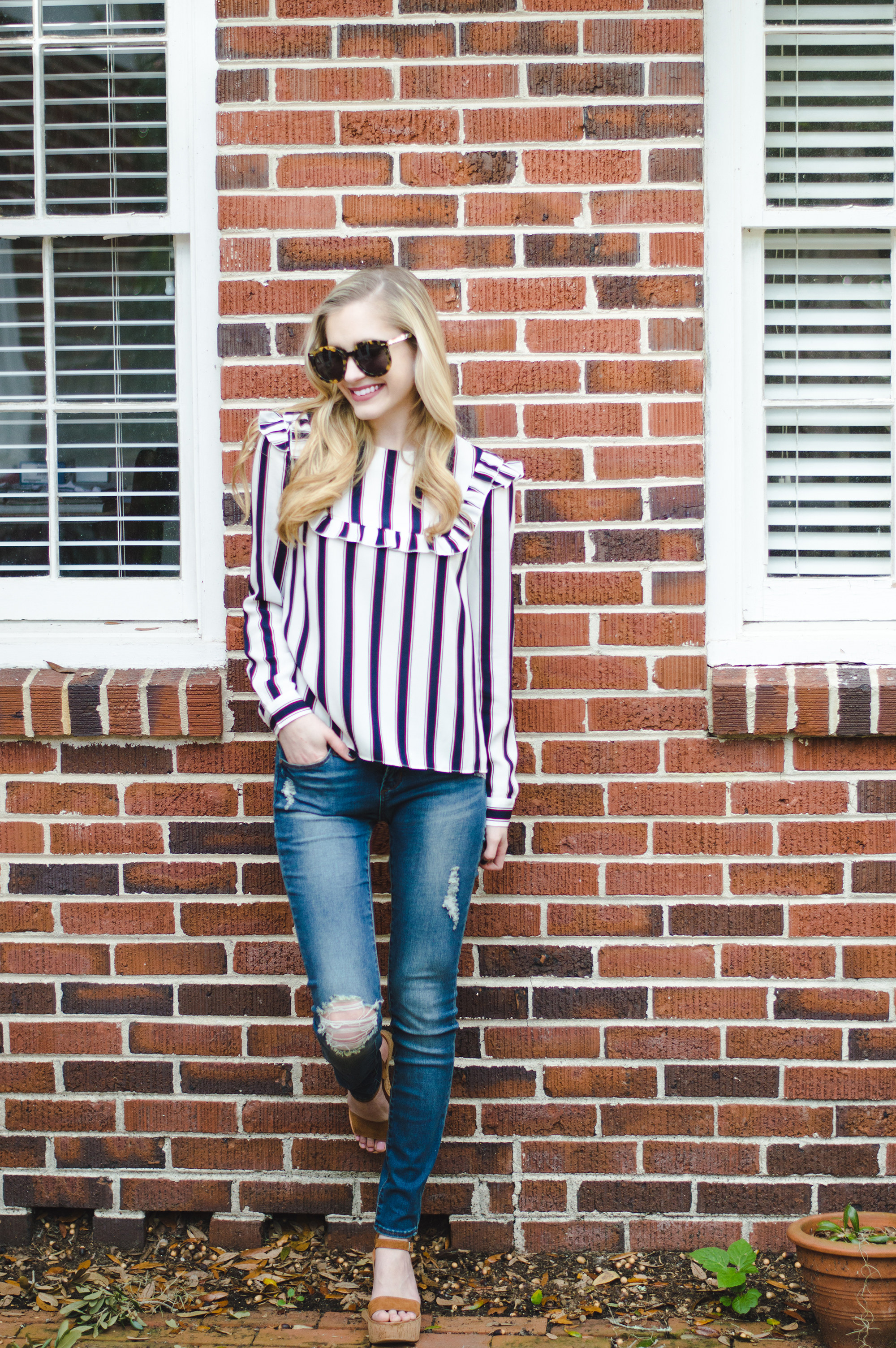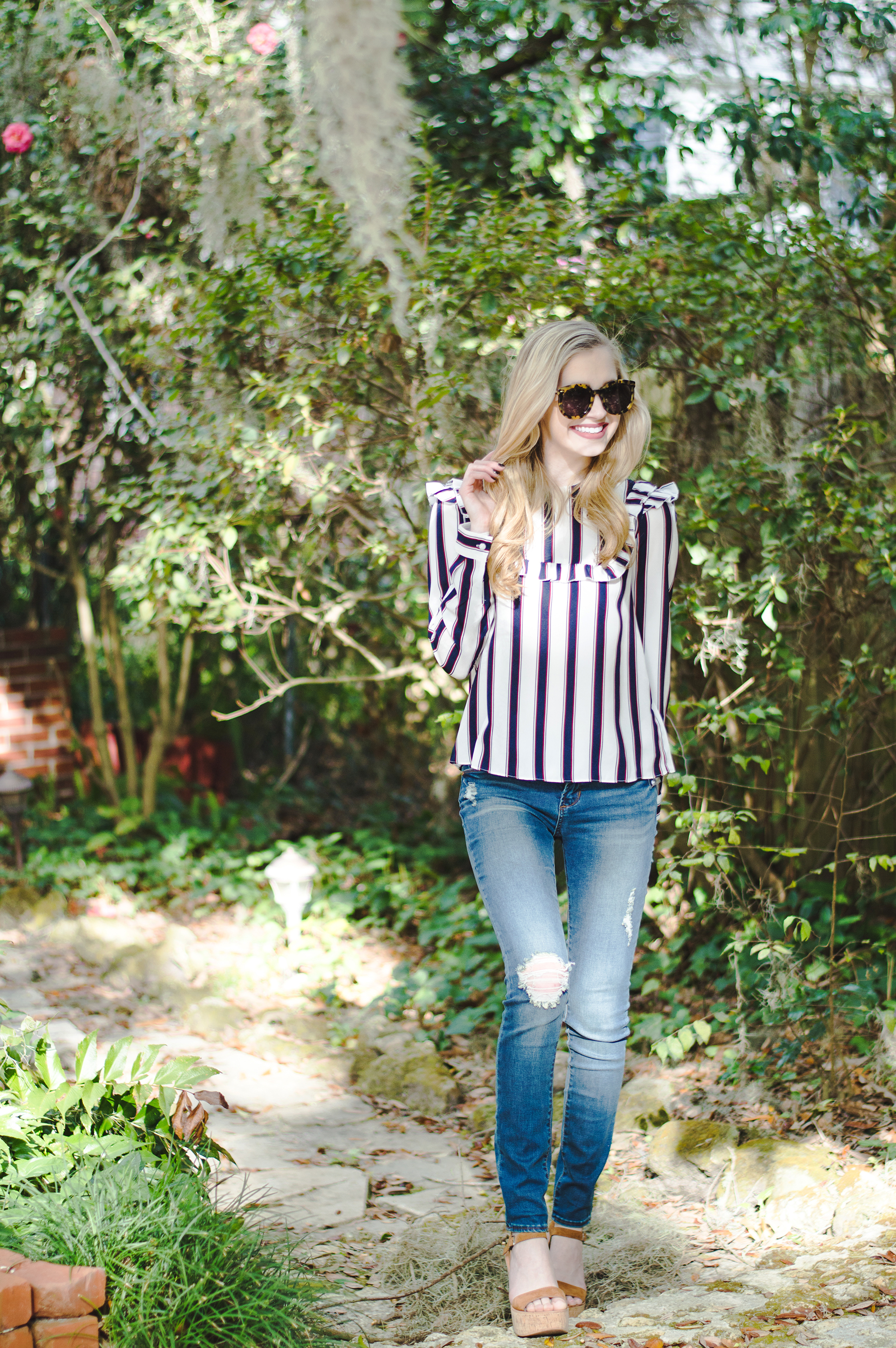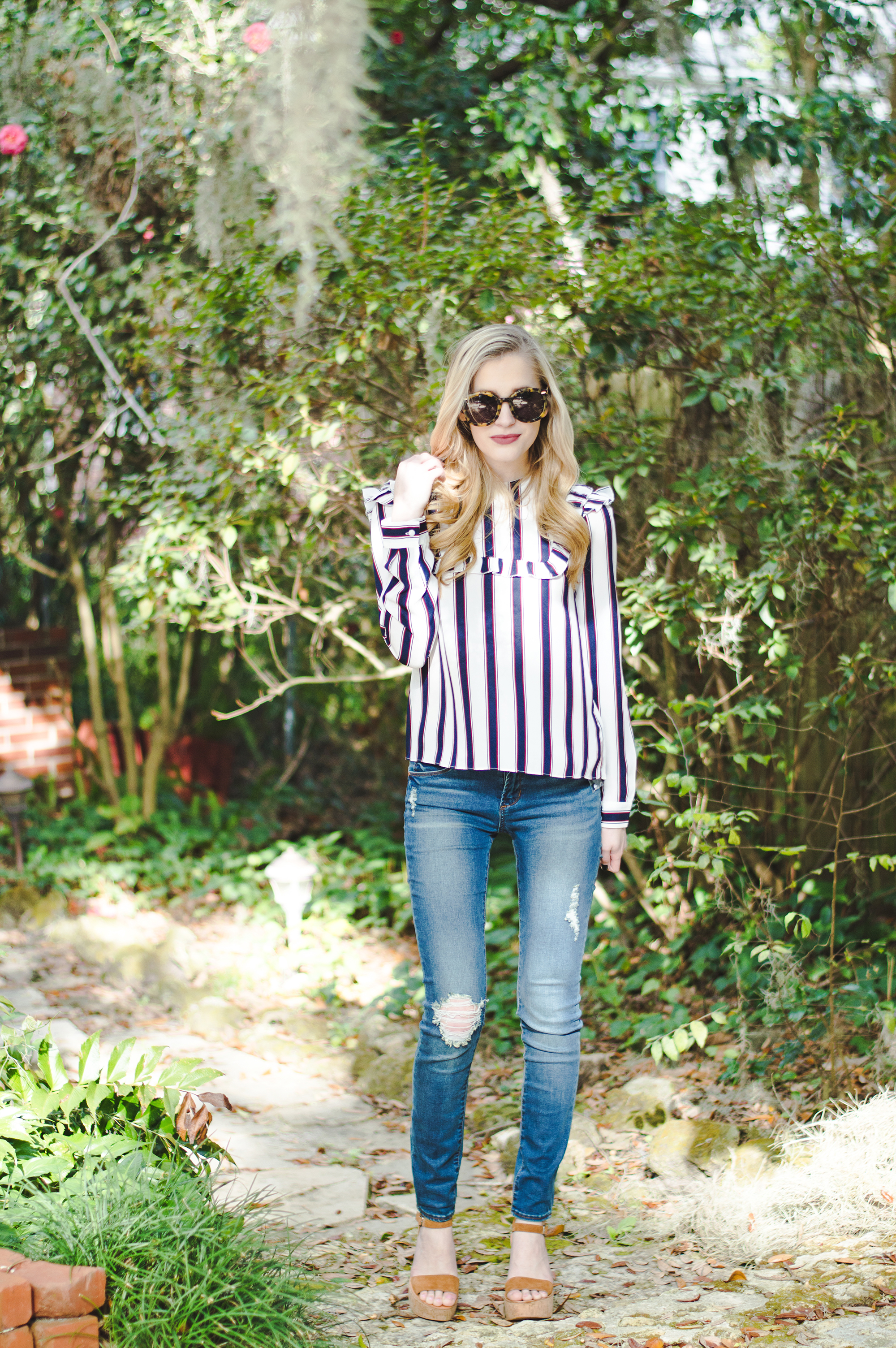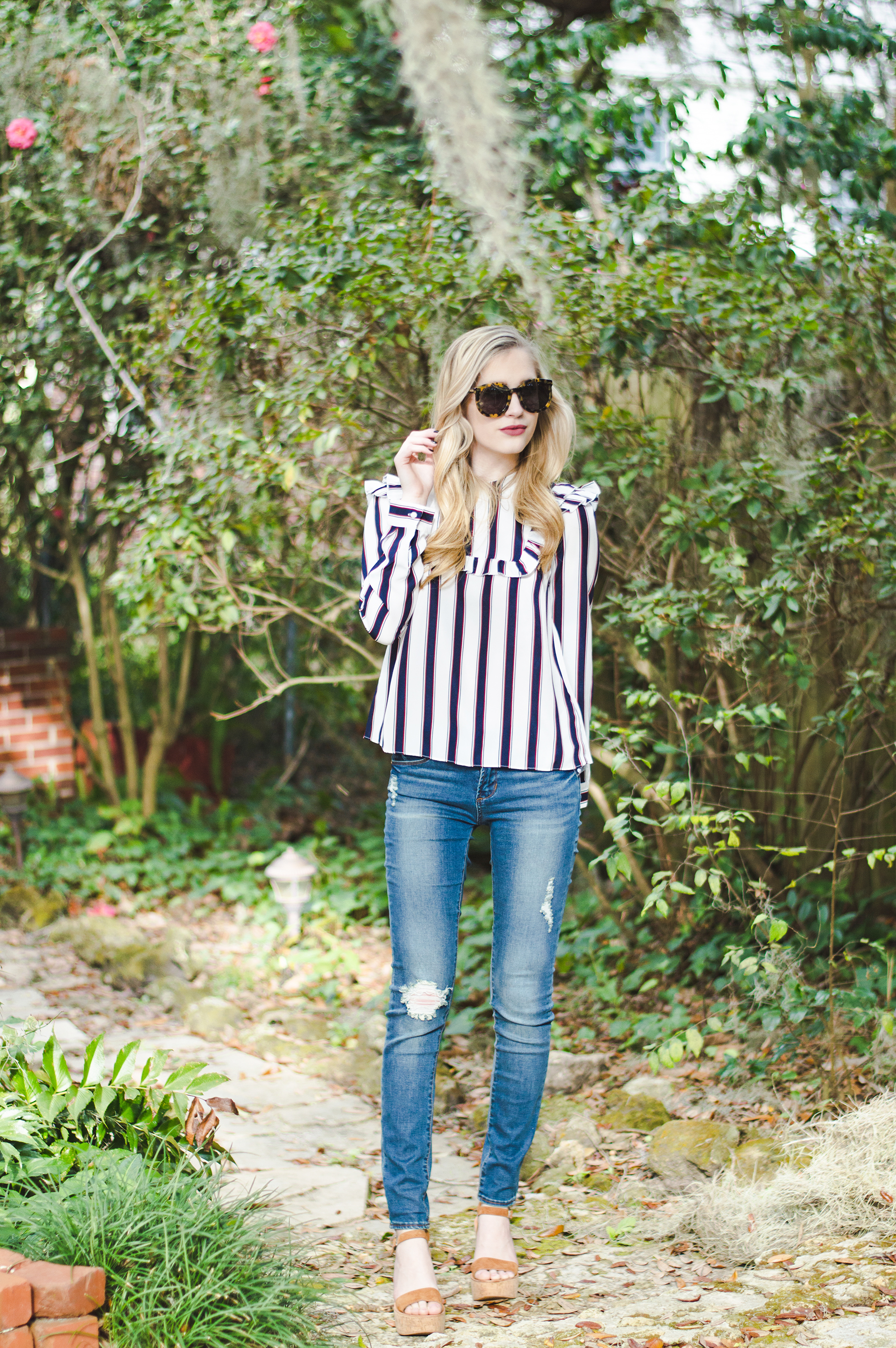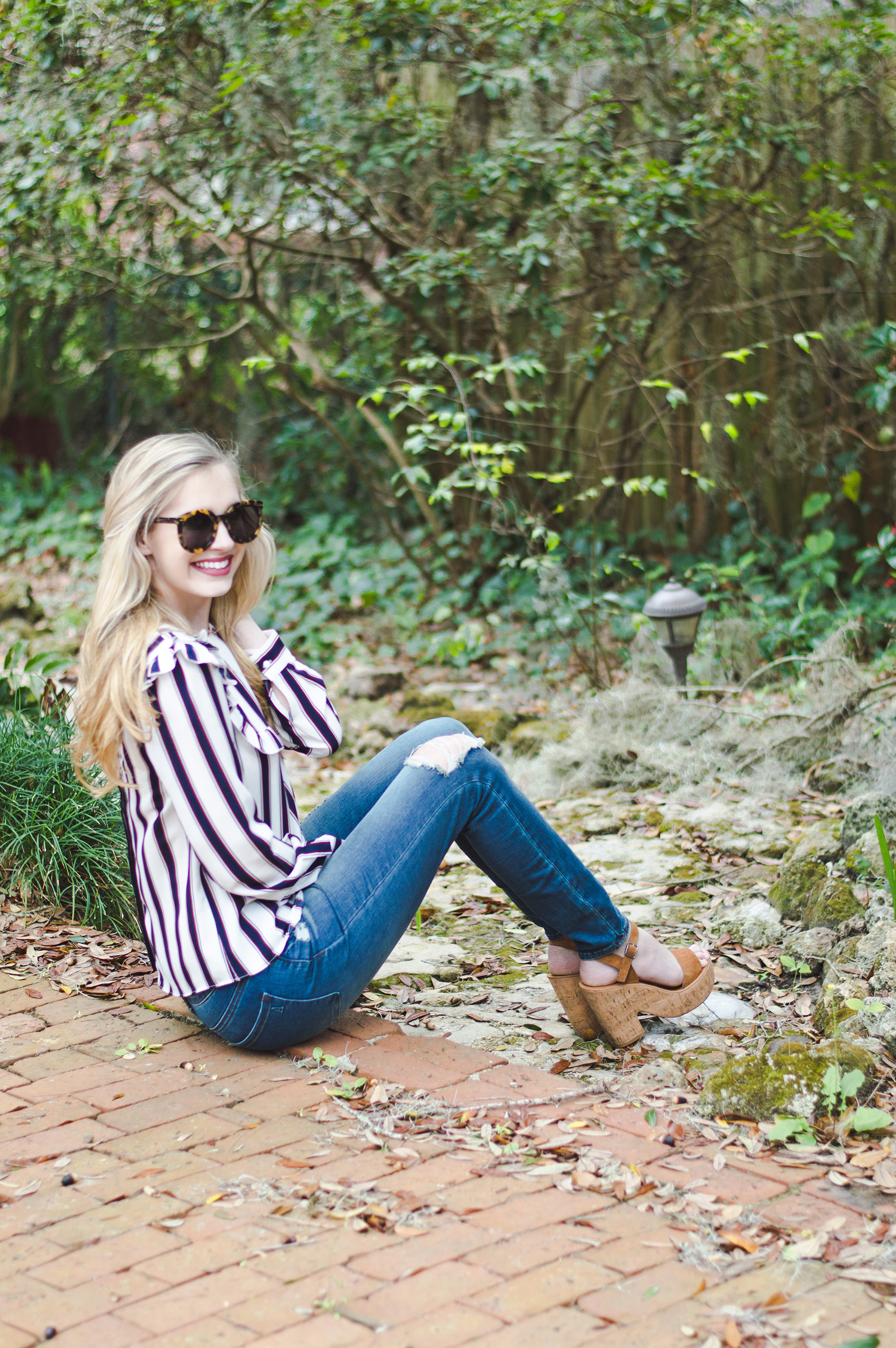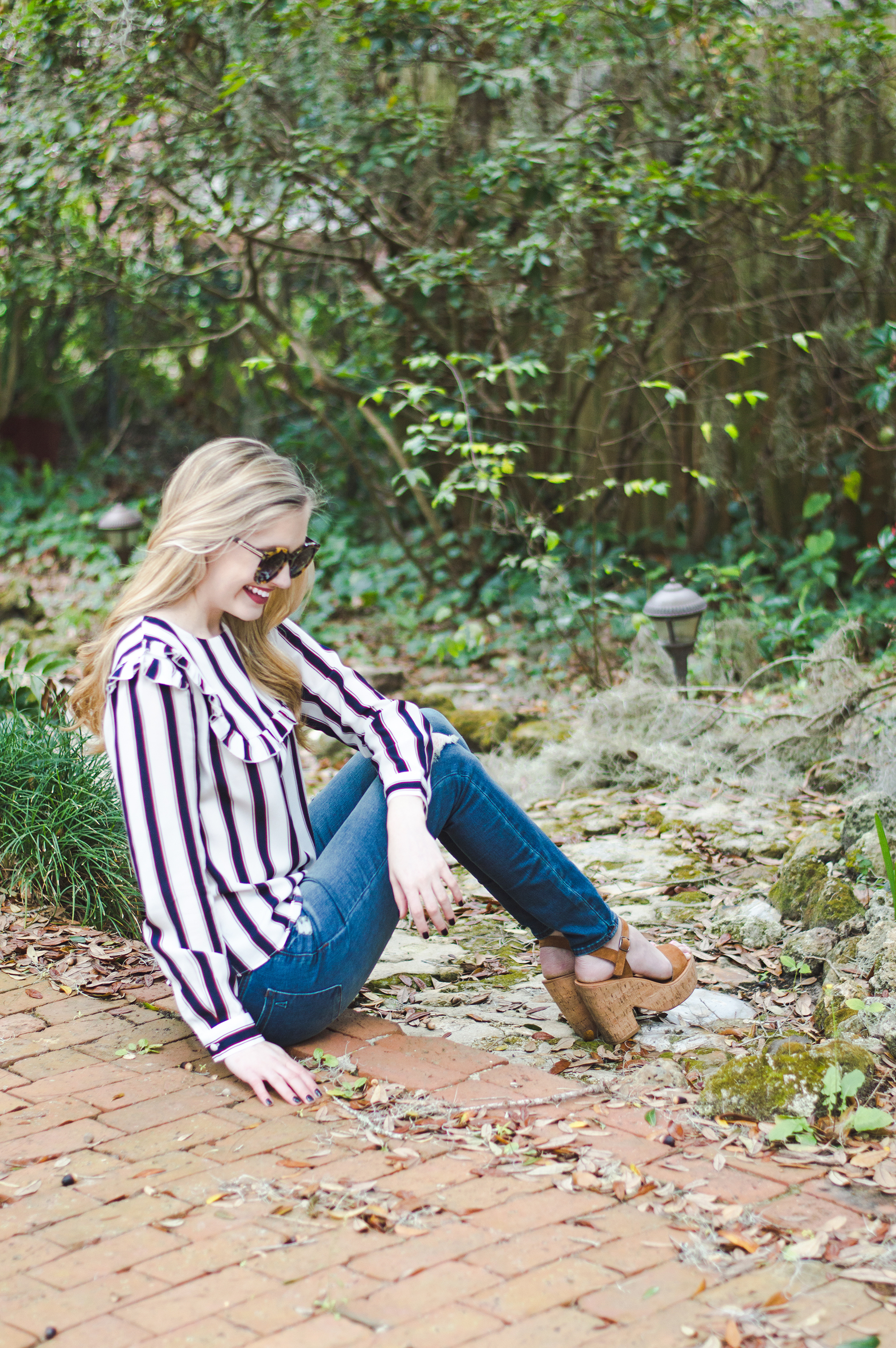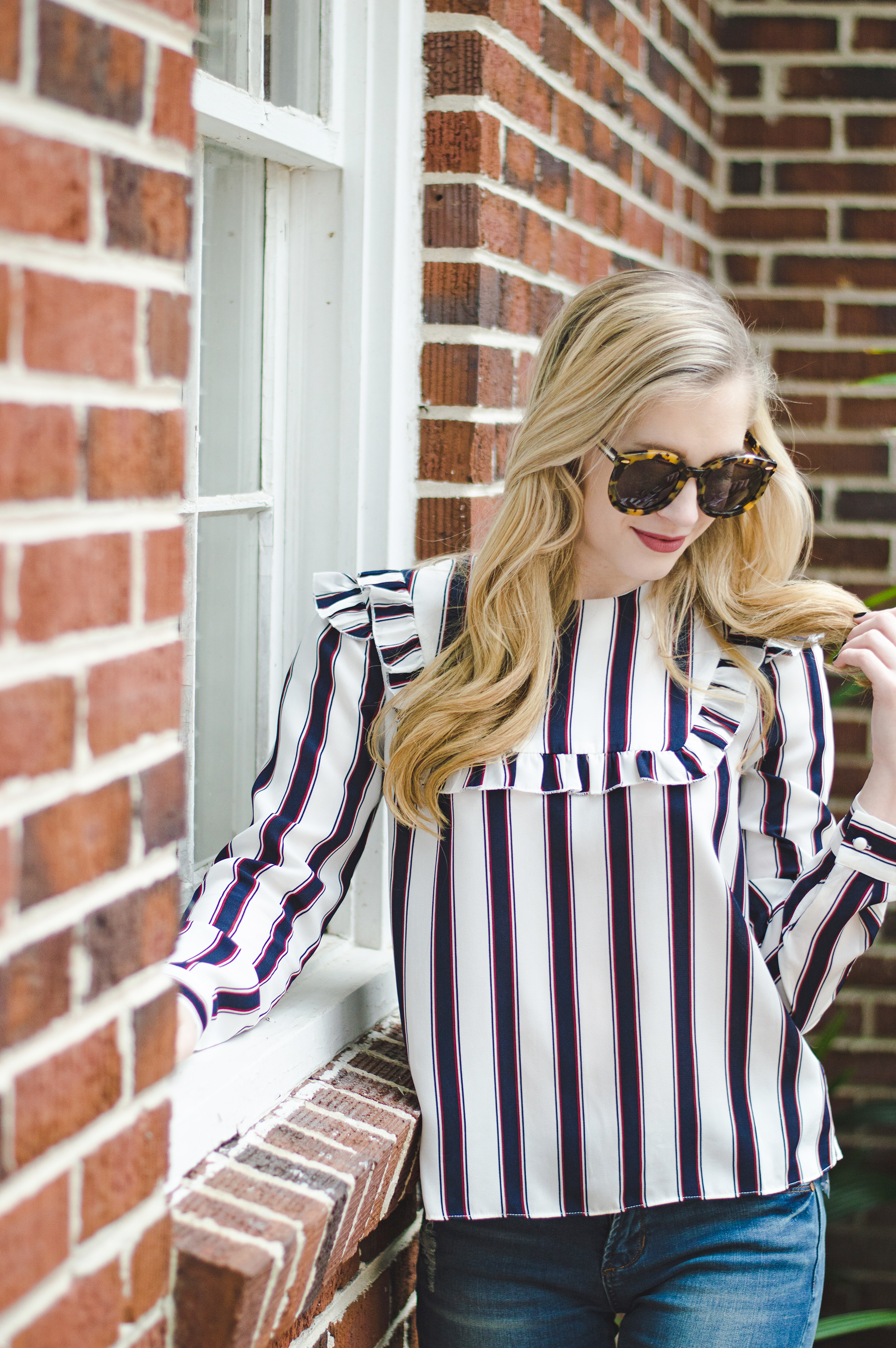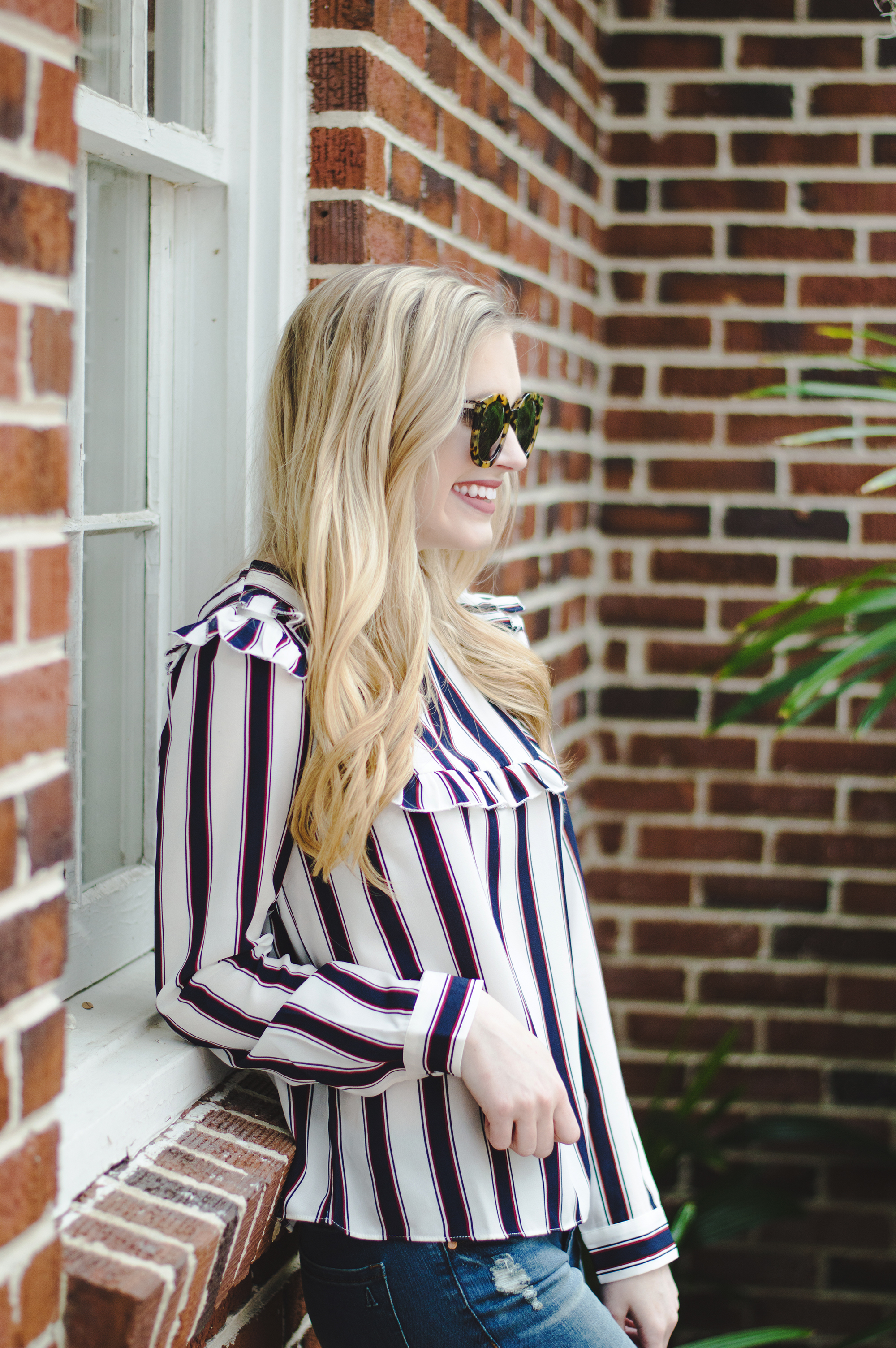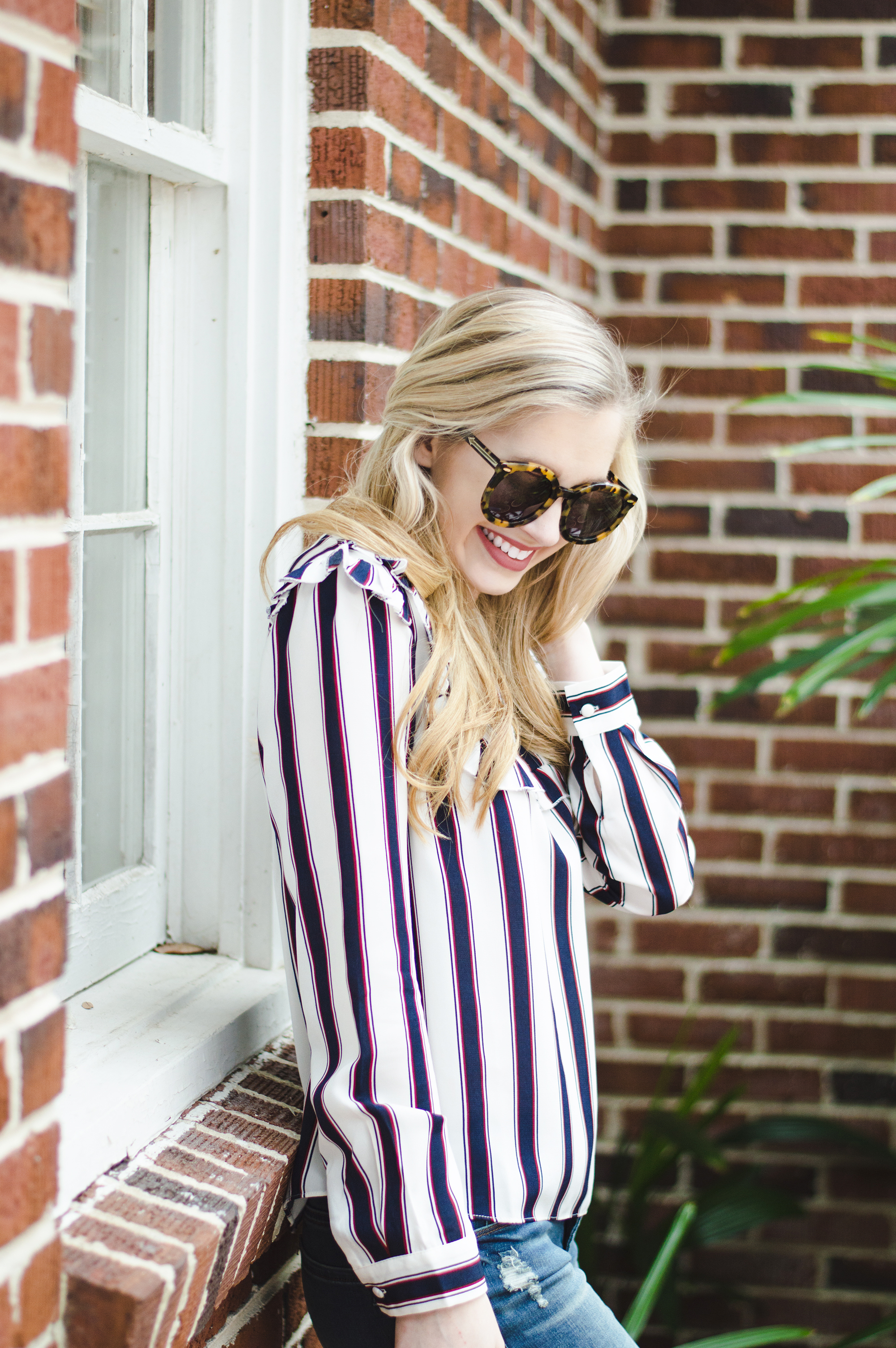 #SMACthecity on National Compliment Day
In light of National Compliment Day tomorrow, Shop SMAC has launched their very own campaign. If you go to their website, they offer the cutest printables ready to download! If you watch their video, they explain what the campaign is all about. Mainly, they just want everyone to spread happiness and joy to those around them! I highly suggest checking it out. It's a fantastic movement to be a part of. Whether you're putting a smile on someone's face or giving someone a confidence boost—you'll make their day better! Now, why wouldn't you want to be a part of that?!
Yep, I'm Wearing Stripes! They are Very in this Year!
I've read several articles on fashion and style trends for 2017, and almost every article mentions that stripes will be making a major comeback. Some notable ones were Vogue, Elle, Allure and InStyle. I don't know about you, but I'm happy about it! I used to hate stripes. This top makes me love them again. The detailing in the ruffles, the delicate buttons on the wrists and the colors of the stripes give this top some feminine flair. Although I love everything that comes from SMAC, this top was one of my favorites.
Here's what I've Been up to…
I don't know what it is, but I've been very into 90's nostalgia lately. I watched the entire series of Buffy the Vampire Slayer in less than two weeks and now I'm onto Beverly Hills 90210. I was obsessed with Buffy, but I was so sad when I finished the show. The way it ended left me with a feeling of emptiness, not to mention the huge lump in my throat. My heart always wanted her to end up with Spike because he was the one that was always there for her and would never leave her side. He stayed strong for her, no matter what the circumstance was. For those of you that have watched the series and know how it ended, you'll understand.
As for 90210, I haven't finished it yet. I'm towards the end of season four. What I can say is that I'm not Kelly's biggest fan, but I'm not Brenda's either—same goes for Dylan. I used to LOVE Brenda and Dylan and I truly believe that they are meant to be, but are you really meant to be with someone that would cheat on you? I don't think so. Also, I don't think you should be with someone that would cheat on their boyfriend/girlfriend with you. I can't see this ending well, and it's making me an emotional wreck!
Sorry for my Rant, but this is a Blog!
Isn't that what blogging is for? Lol, if you've made it this far, then props to you. You're probably laughing out loud at my ridiculousness over television characters. When this show is over, I'll need another one to watch, so please make recommendations in the comments below. (I love shows with a female lead that I can relate to!)