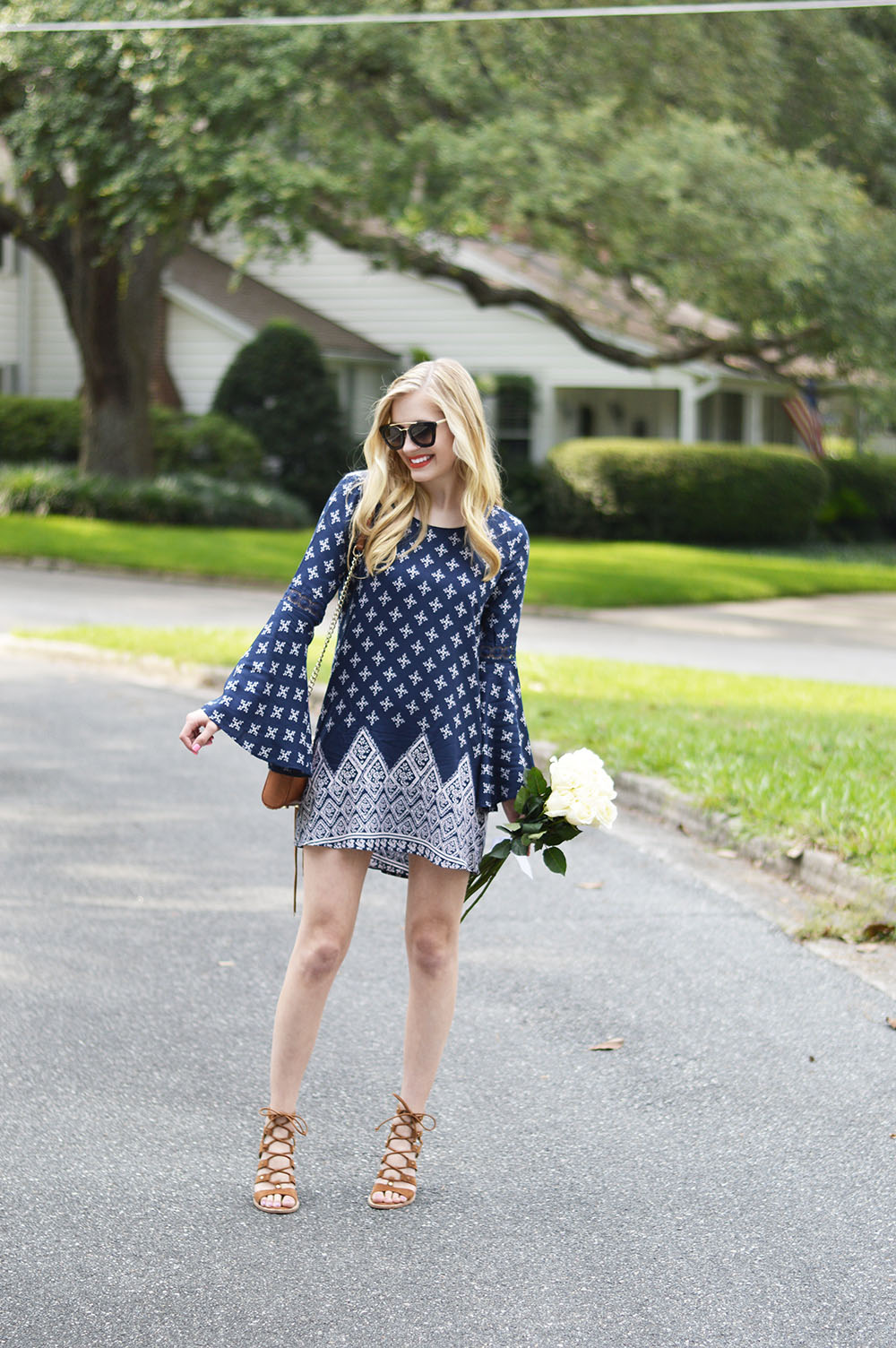 Dress // Sandals // Crossbody // Sunnies (Flowers courtesy of The Fresh Market)
It's finally my birthday, so I've decided to answer all of those frequently asked questions about life, blogging, school and more. But, first things first — I got this awesome sundress from my sweet boyfriend Ryan, and I am obsessed. Aside from it's amazing color and pattern, it's very light weight and the fabric is thin, so I don't get to hot wearing it. Also, if you read my blog often, you'll know how much I love a good bell sleeve, but that's not the only thing I love.
I love wearing blue. Growing up with white hair and blue eyes, I've always felt like blue was my go-to color. Whether it's a cute top, a swim suit, shorts or a dress. Blue is the way I go. My only suggestion about this dress is to go one size up if you want a longer length. As you can see, I have long legs so I probably should have tried the Medium, but as long as I don't bend over — it's all good!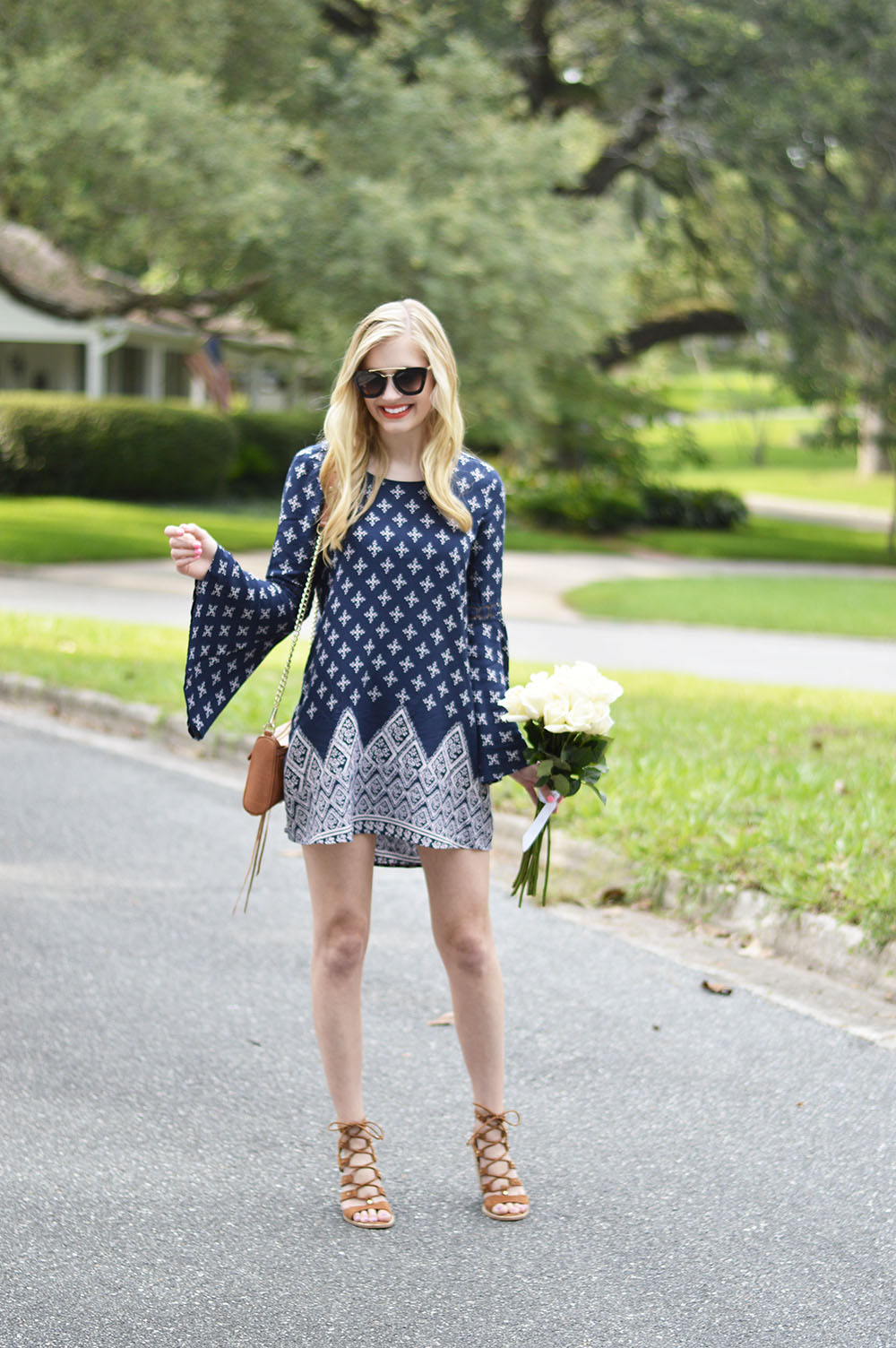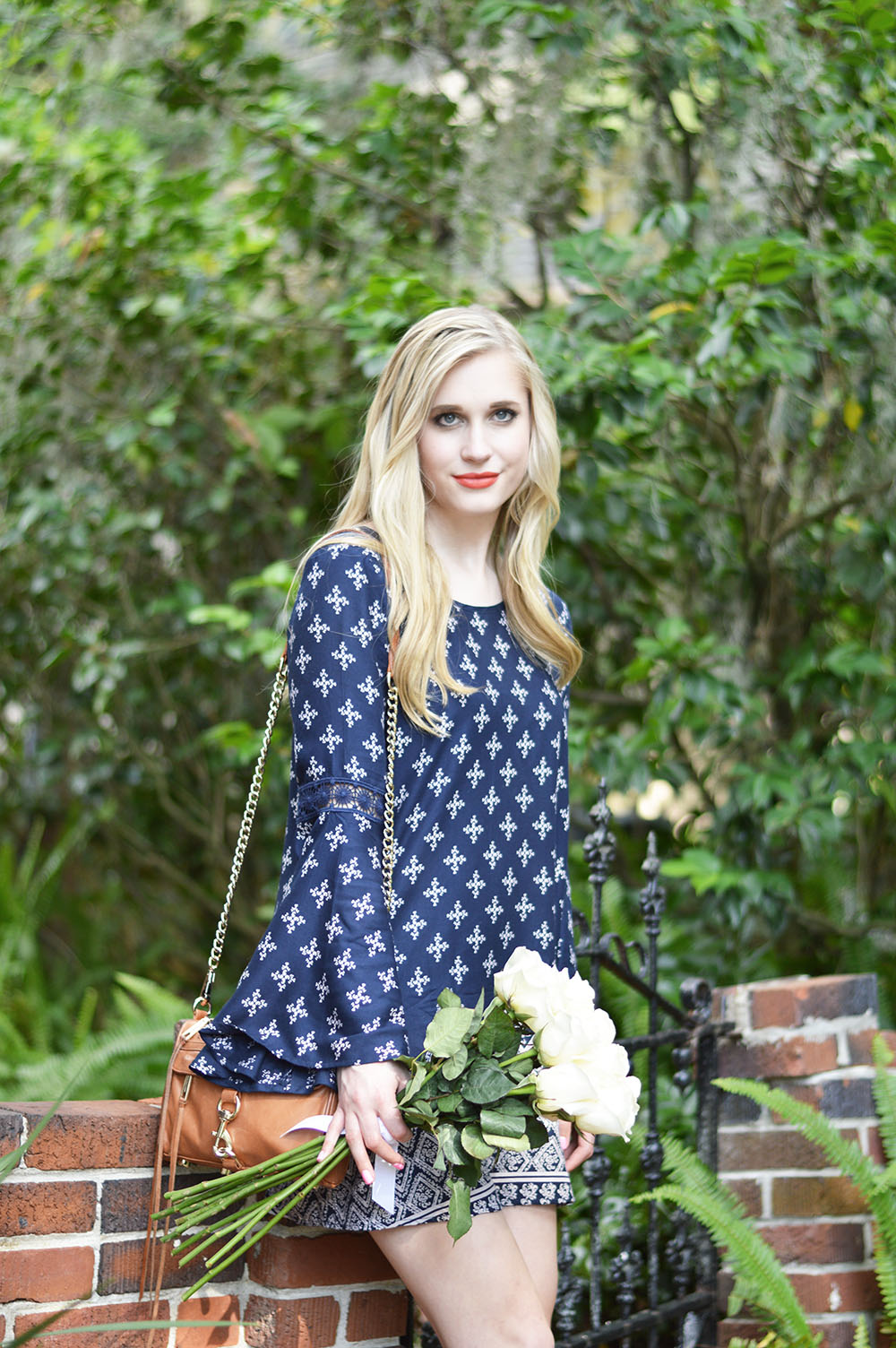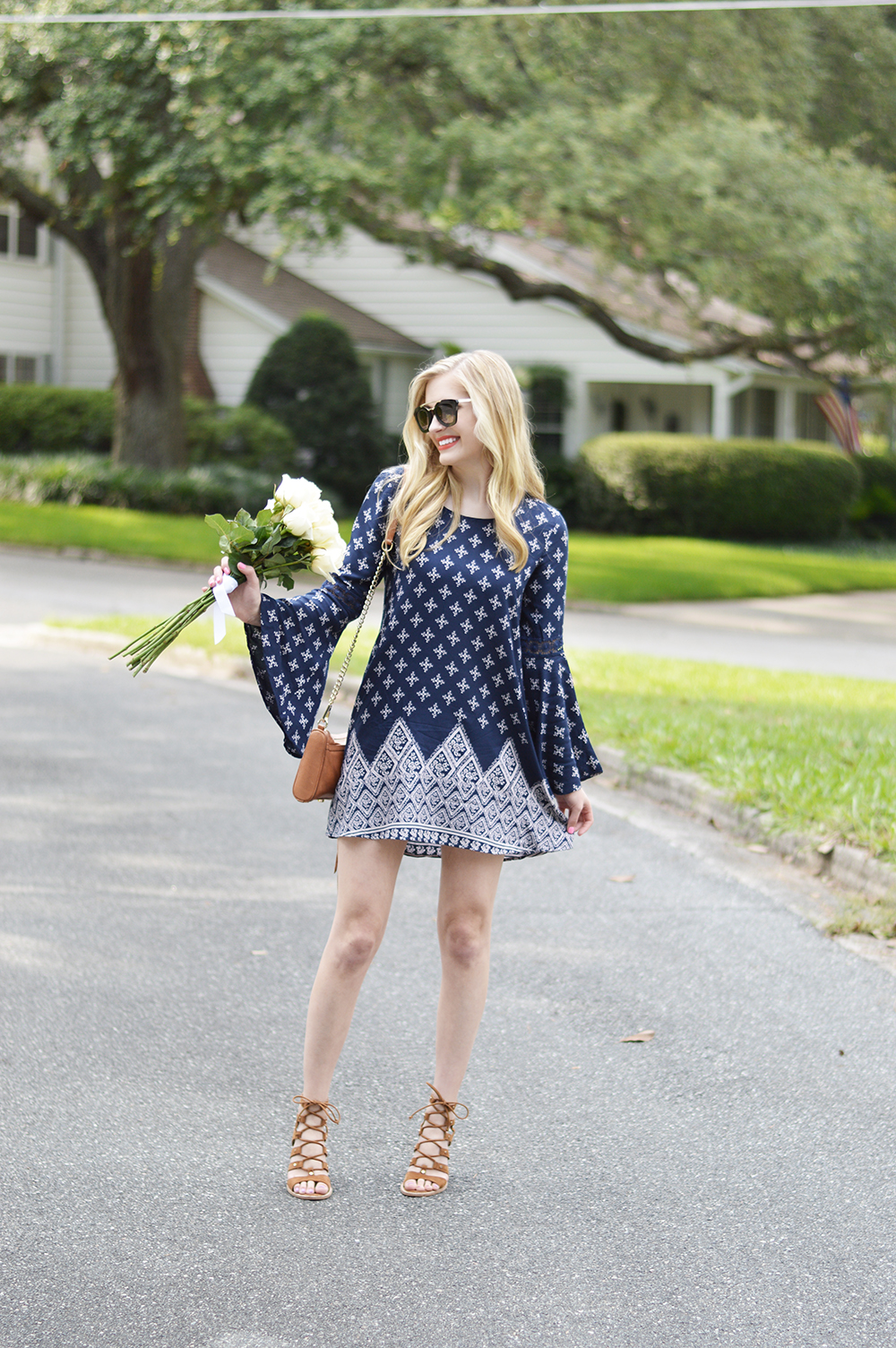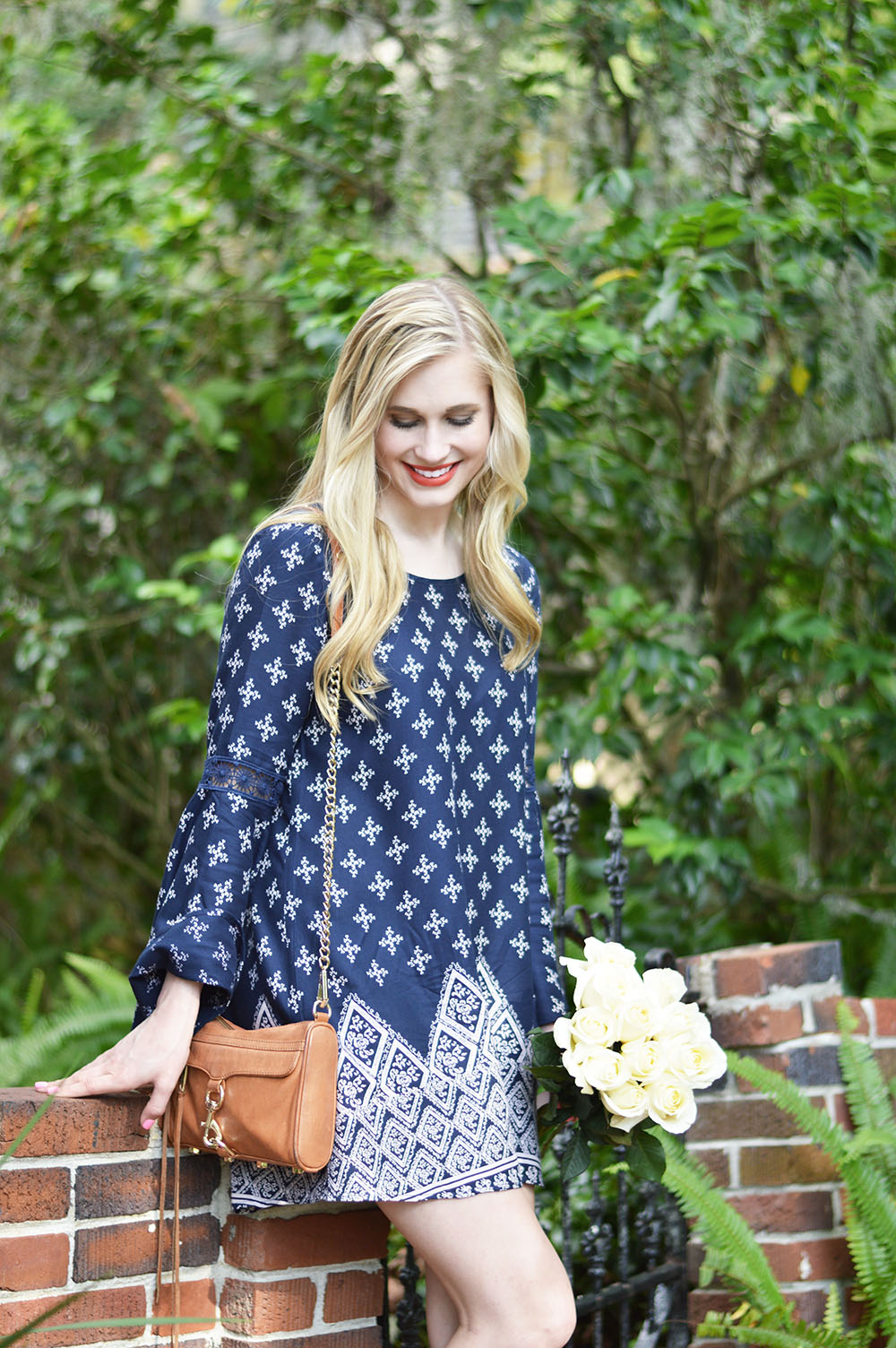 The first official Styelled FAQ
What made you start a blog?
My personal experience may have been different compared to others, but I started a blog because of school, my love for graphic design and my interest in fashion. I started graphic design at a young age, so when I saw all of these other blogs, I became so interested in how they are made and how it all works. I became amazed by the business and web design behind it all.
What platform do you use and why did you choose it?
Starting out, I had no idea how to blog. I figured out that you can start one through Google, so I originally powered my blog on blogspot and purchased my first domain through there. Recently, I switched to a self-hosted WordPress.org blog and I love it. I really feel like it has impacted my blog and it's helped me more on the backend to create better content for my readers.
Do you get free stuff all the time?
No! I don't know why people always assume this about bloggers. I get free stuff here and there and I love it, but most of the time the things I post are my own personal clothes — unless it's an outfit from the store that I work at. If it is, I mention that in my blog post.
Do you get paid to blog?
On occasion, yes. It depends on if I'm doing a sponsored post for a clothing company or if I am getting commission through traffic on my site. It really just depends. There are also blogger affiliation networks that connect bloggers with companies in order to better market their product, and you can get paid that way. There's a lot of different ways, it just depends on whether you want your blog to be more of a hobby or more of a profession. Since I'm in school, mine is more of a hobby for now, but I would love to see it grow into a business in the near future!
What kind of curling iron do you use and how do you curl your hair?
Ah, here's the million dollar question. I use this curling iron on 350 heat depending on how my hair feels that day. Sometimes I'll go lower if I feel like my hair needs to rest. Anyway, to curl my hair, I separate it down the middle behind my head and I curl away from my face starting from the front to the back of one side, and from the back to the front on the next side. I continue curling away from my face on both sides, so you have to switch the way you're using the curler to the next half of your head. If enough people are interested, I'll do a video tutorial. Comment on this post or email me at styelled@gmail.com if you want to see that! After I finish curling, I gently run my fingers through the bottom of my hair to get a wavier look and then I spray it with this amazing strong-hold hairspray. I could only find a link for the hairspray on Walmart, but it's sold at Walgreens too. That's usually where I get it from.
Is your hair color natural or do you color it?
I actually highlight my hair. Naturally, it's just a little bit darker blonde. You'll see that in my posts during the winter months. I do more highlights during the summer. My fabulous hairdresser, Kelly, puts up with me and always gets me in when I need my hair done, bless her heart. She uses Redken on my hair, but I'm not sure about which shade she uses, so I'll keep y'all posted on that. After my hair is highlighted (with foil) she uses shampoo and a toner to even out the color.
How old are you?
22 as of June 13th! I'm not that old, right?
Do you like living with your boyfriend?
Yes! I do! He's very encouraging when it comes to my blog and school work. He's also very sweet to me. He doesn't care if I want to put fresh flowers on the table or if I want to put up girly decor. He's happy if I'm happy, and same goes for me! He is somewhat of an interior construction drafter, so I enjoy watching him build things while I write a blog post. We just moved into a new house that we will be renting for a little while, so it's fun to decorate and rearrange things together. He definitely has my heart!
How do you balance school, work and blogging?
I know it seems like a lot. I take it one day at a time and I make tons of lists. I'm a total list-maker and I also keep a pretty detailed weekly planner. If you're interested in the notepads I use, you can check them out on my online graphic design shop. Other than keeping a planner and going off of lists, I always print out my course schedules so I can cross off assignments as I go. As for my blog, I post when I can. I haven't created a rhythm to it yet, but hopefully I can start posting every other day. That's if I can prioritize better. But hey, we aren't all perfect. I'm definitely not. Work goes into my weekly planner and I try to plan my school assignments around it. I usually decide to do the homework for one class on like Tuesday, and another class on Thursday — you know.
What size are you and how tall are you?
I am just at 5'5″ and I'm usually a size small. In this sundress, I'm wearing a small. I'm generally a 6.5 in shoes and usually a 25-26 in jeans. I always wear regular length. If you ever have questions about the size of something I have on so you can compare before a purchase, you can email me and I'll respond with the greatest detail possible!
Are your eyelashes fake?
No. I have longer eyelashes naturally, but I also use an eyelash curler before I apply my mascara.
Do you always have your nails done?
Well, yes. I am licensed in the State of Florida to do nails, so I do my own. People always ask me if it's hard to paint my right hand. It's not really hard because I've been doing it for so long. I always use gel polish though. My favorite gel polish brands are Essie, OPI, Gelish and Artistic Nail Colour. I like CND's Shellac, but the colors aren't as bright and colorful as the other brands. To get the gel off, I take a strong grit nail file and file off the shiny part (this basically unseals the top coat) and then I soak each hand for about three minutes. The rest of the gel files off so easy. My natural nails are still in great, strong condition.
Alright! That's all the questions for today. If you have any more, just email me at styelled@gmail.com
Here's my Sundress and Everything Else!