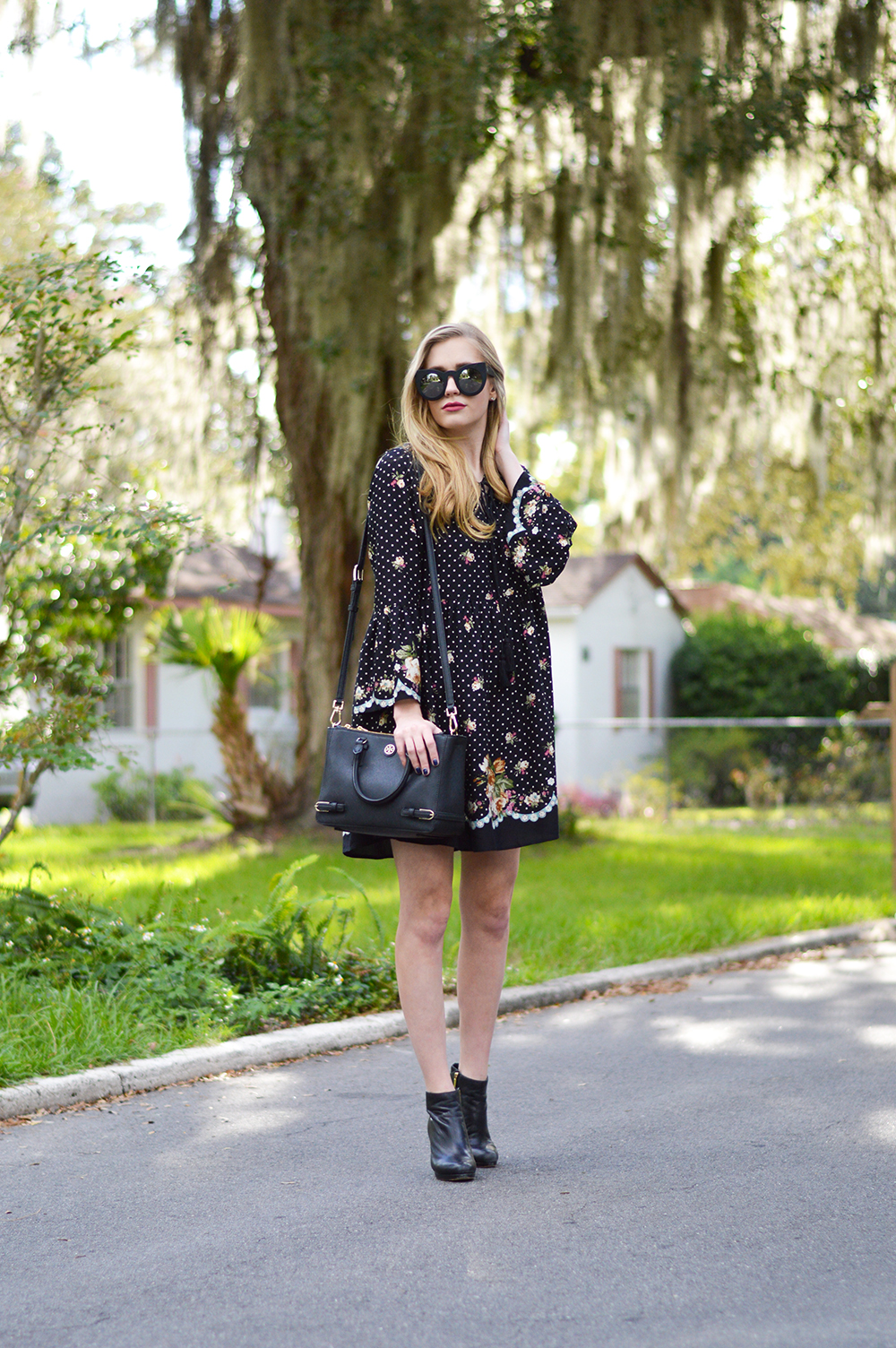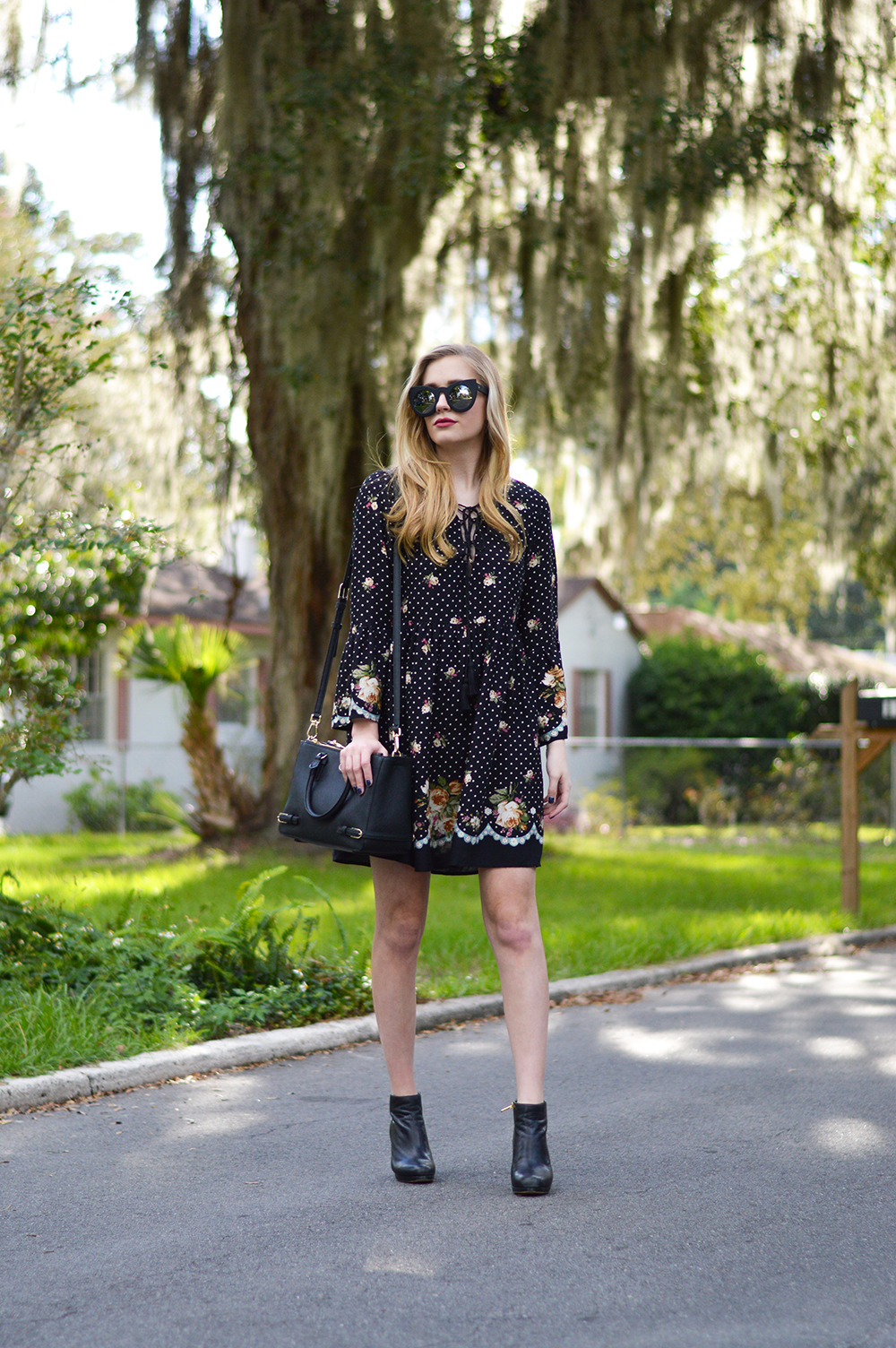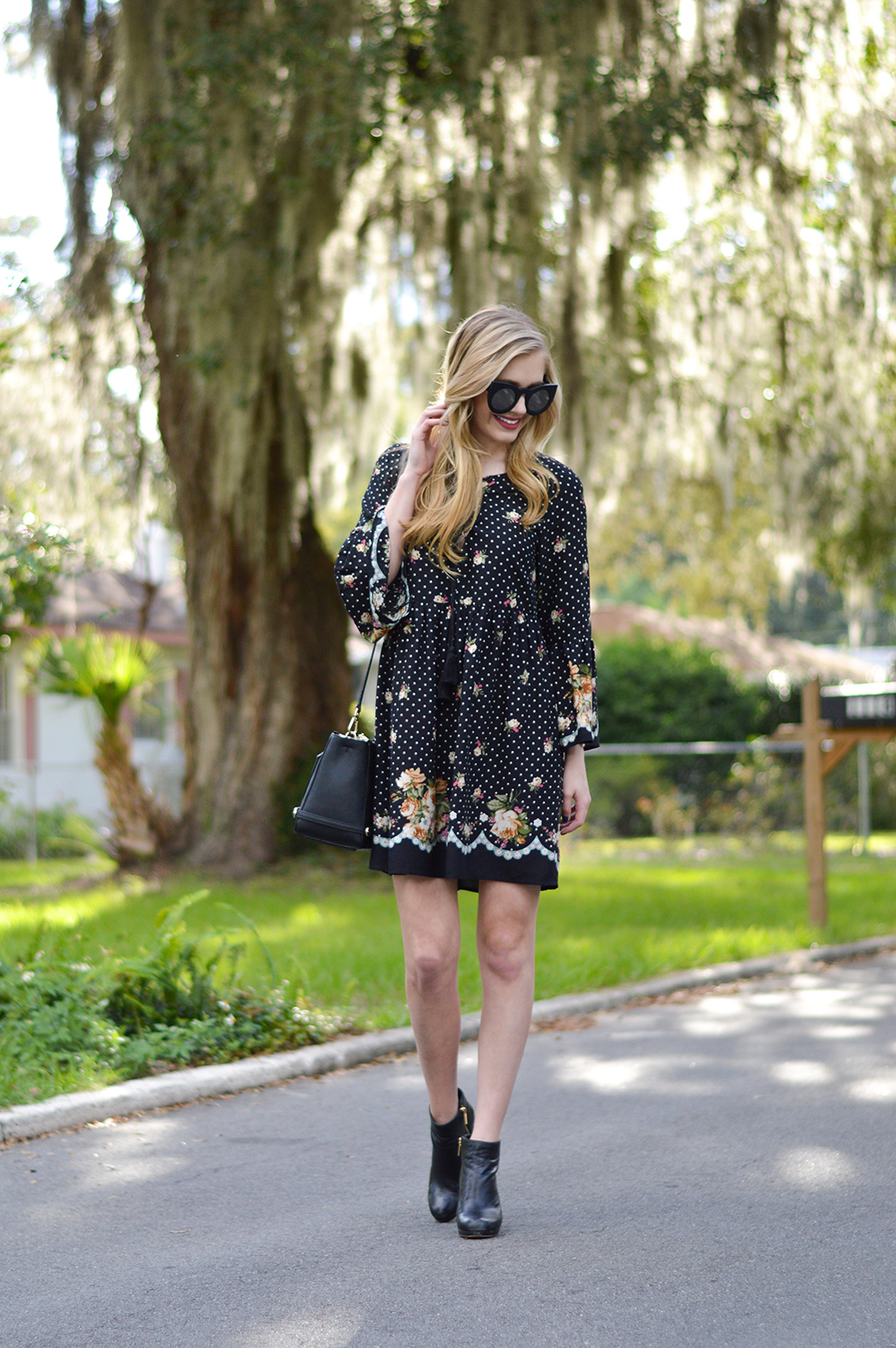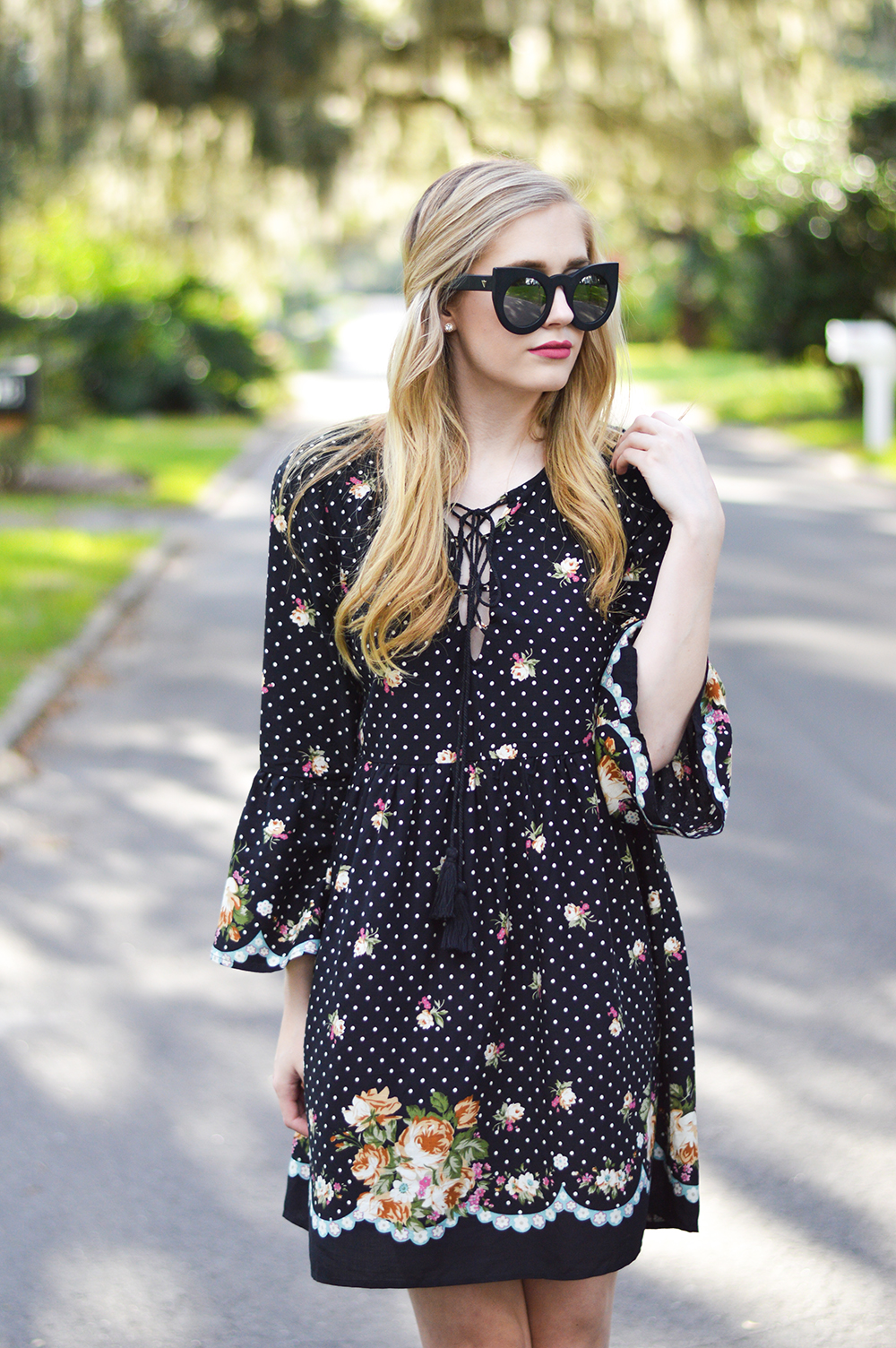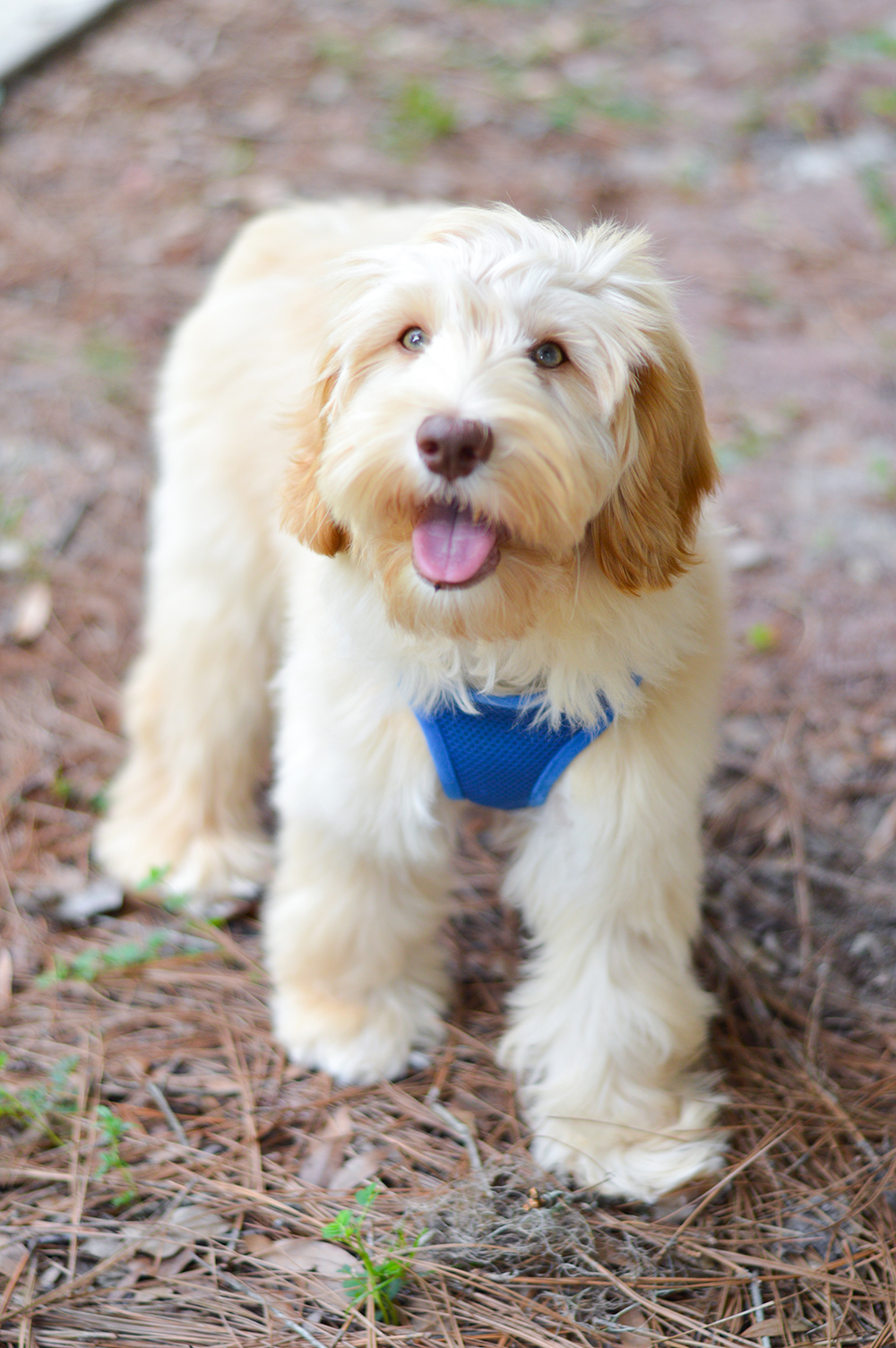 Dress // Booties old (similar) // Purse // Sunglasses // Lip

Fall is finally here! You know what that means? Halloween, it means Halloween—my absolute favorite holiday of all time. It's my favorite because I get to go to Halloween Horror Nights, which is my favorite event of the year! I must say though, you go in thinking you're not going to buy anything you don't need. Let me tell you something—if you're over 21, you're going to buy everything you don't need (including the t-shirt because why not?).
Fall Fashion is Everything
One of the main reasons I love fall so much is because it means I can wear maroon, navy, dark green and just about any other dark color you can think of. I am obsessed with dark colors, suede, velvet, booties, scarves and everything else you can think of. I especially love this dress from Thistle and Finn! One of the hottest trends lately is lace-up, babydoll dresses. This dress has all of that and more. Did I mention that there are tassels at the end of the laces? This dress is perfect for the season. It's fully lined inside and it has a flowy fit so people like me don't get too hot wearing it. (;
Thistle and Finn
This isn't my first time shopping with Thistle and Finn, and it won't be my last! They have the best customer service and the sweetest owner. She's always available to give advice on cute clothing items and she's quick to respond to any questions you may have. Their store has that althropologie aesthetic, but the difference is that they are actually affordable! If you're in college like I am, then that was just music to your ears! Go check out their site!
Updates
Now that I'm back in the swing of things at school, I have more free time and I'm working on Pinteresting my life away for some Halloween decor ideas. Also, Winston is finally getting the hang of potty training. He actually rang the bell I hung on the door twice yesterday. I was so proud of him that I gave him two treats! Other than school and my puppy, I've been watching Veronica Mars non-stop. That's why I've all but vanished. I have almost finished all three seasons in less than a week. I'm pretty sure that's what you call a problem. Regardless, TEAM LOGAN.