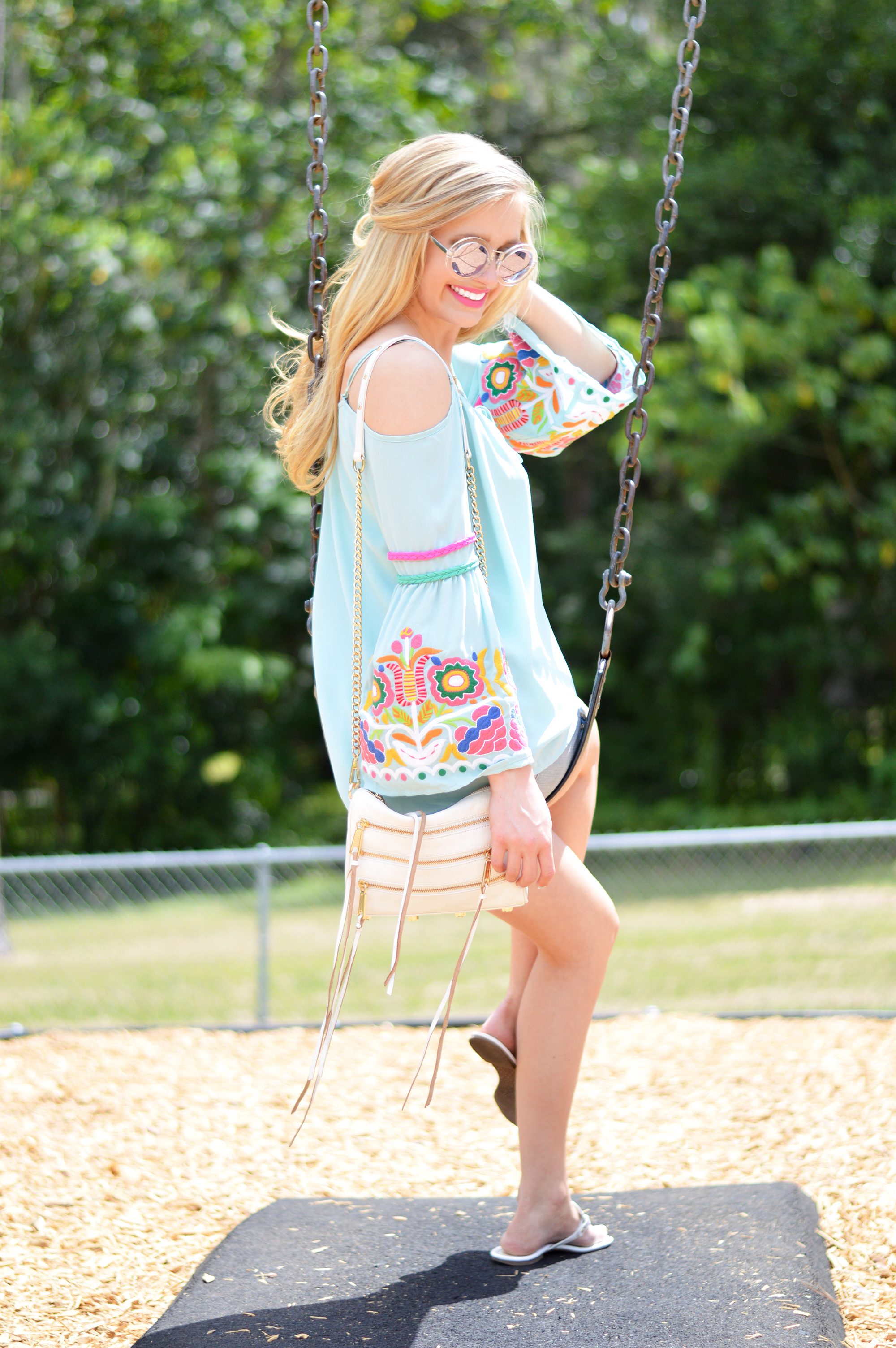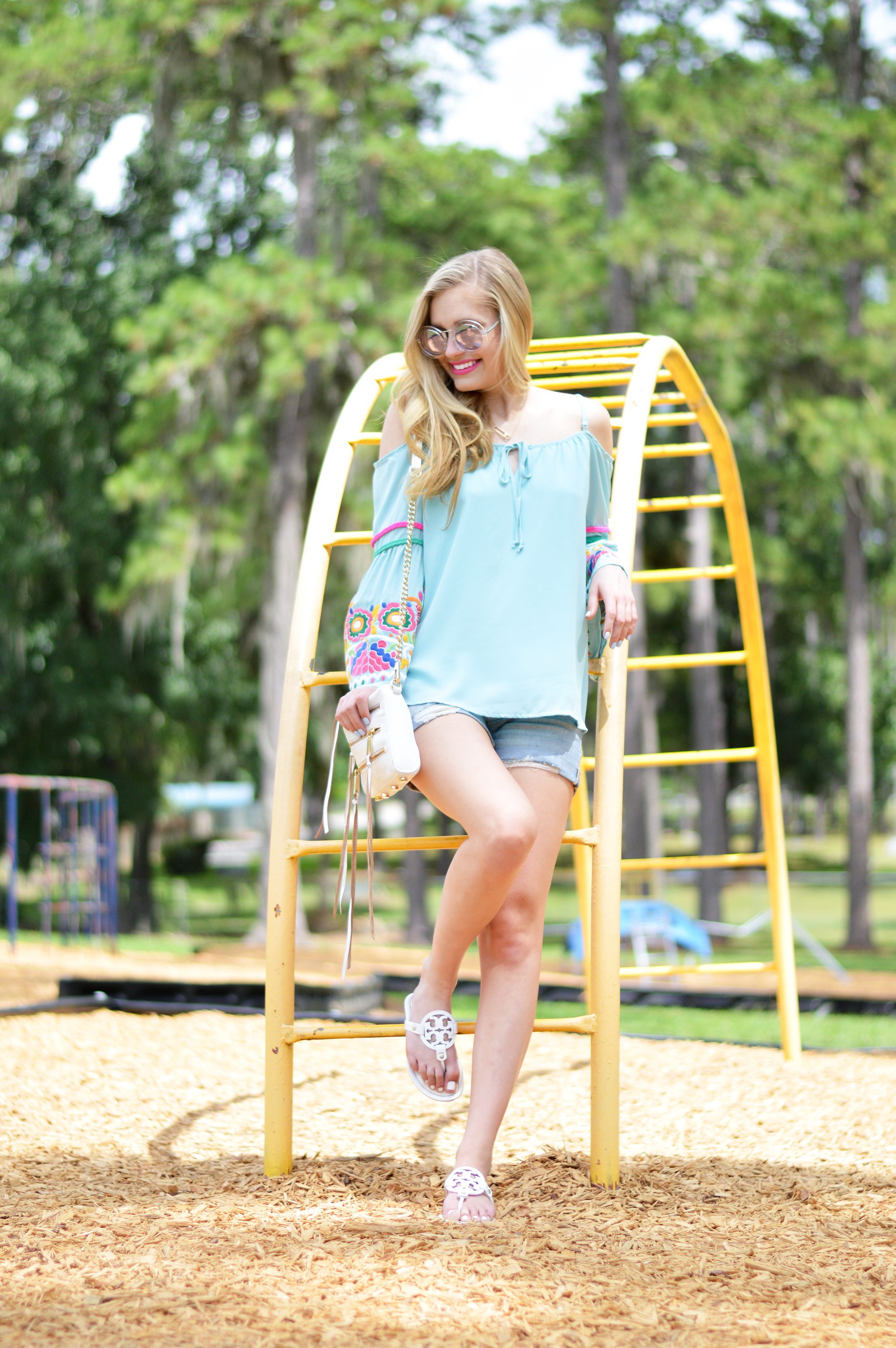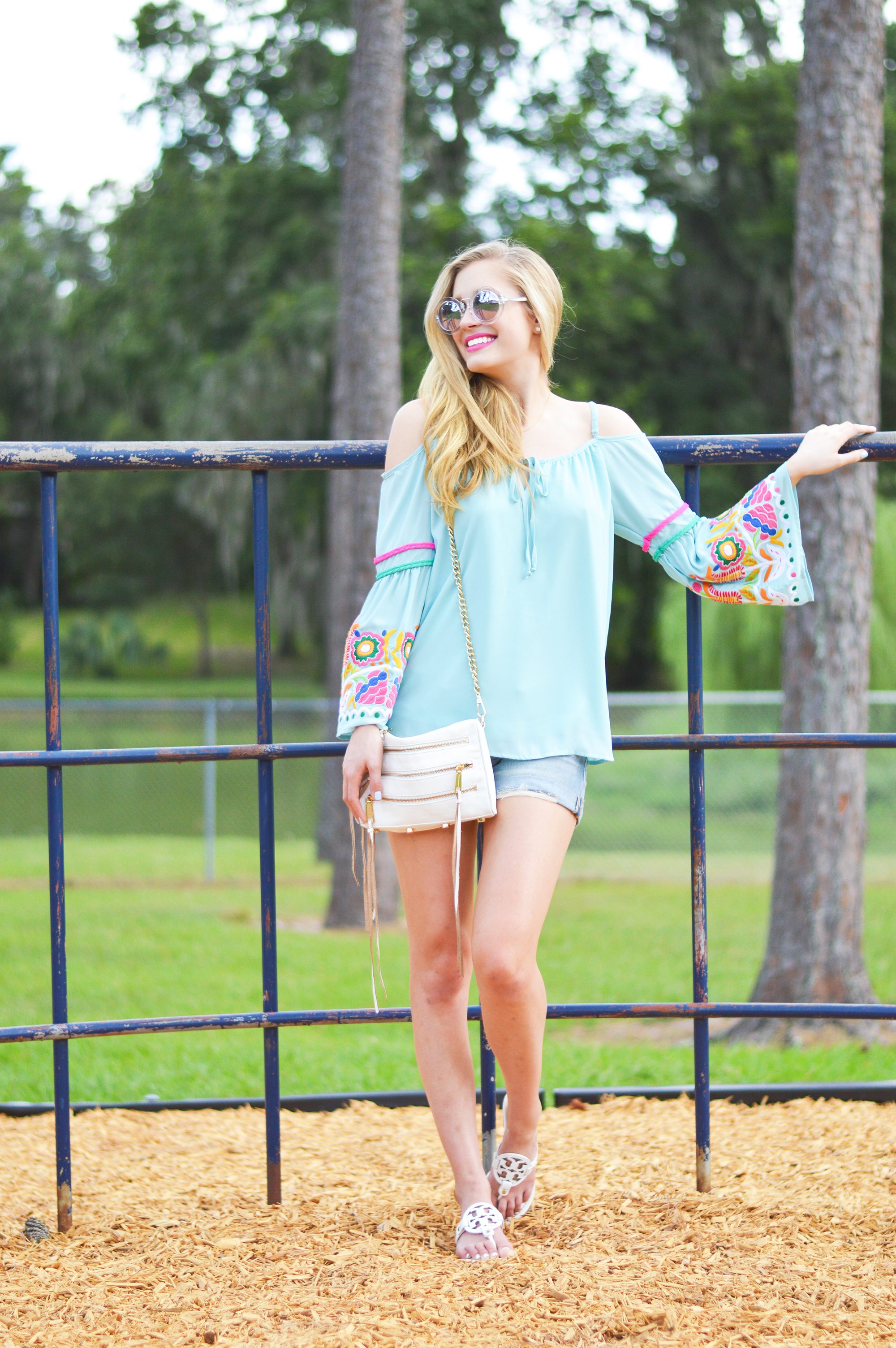 Top // Shorts // Sandals // Crossbody // Sunnies // Lippy // Necklace
This Florida heat is making me crazy! Everyone else is bringing out their pumpkin-scented candles, dark lipstick, booties and cardigans while I'm still wearing my summer clothes! It was 98 degrees outside today—yes, 98 degrees. For those of you who grew up in a state that actually has four seasons, I envy you. You may think this is unbelievable, but I've never even seen snow. Regardless of the weather, I'm okay with it as long as I get to wear super-cute embroidered tanks.
You can still look glamorous in the heat, right?
I won't lie to you, taking these photos was definitely challenging with the heat. Although, I was having fun and my smiles were real, but only because my boyfriend was photographing me. Every time he takes my pictures, he finds ways to make me laugh. I wish I was able to Snapchat this event. He was down on the ground and standing on top of things—it was hilarious.
Now for the outfit,
The first time I ever saw this top was when I was clicking through the pages of the new arrivals at Revolve Clothing. My eye was immediately glued to this top. I was obsessed with it and I had to have it. Unfortunately, ya' girl is in college and I don't have a million dollars. Maybe I should start a GoFundMe. My sweet boyfriend bought me this top because he knew how much I wanted it and I assured him that everything I've ever gotten from Revolve is great quality. Also, they ship really fast, like lighting-speed.
Accessorizing, duh.
I paired this top with my favorite pair of distressed denim from Nordstrom, my go-to white Tory Burch sandals and my white Rebecca Minkoff cross body. I love when I get to bring out my white bag because it's so cute. To accentuate the top, I wore M.A.C. Candy Yum Yum to make my lips pop! Finally, I knew this outfit needed the right pair of sunglasses. My sweet friend from work, Erin, gave these Quay sunglasses to me as a gift. I assured her that they would be in my next blog post because I loved them so much, so here they are! They match perfectly, so thank you to Erin!
Updates and stuff
Fall semester is now in full swing. I am not so patiently waiting for it to cool down, especially with October right around the corner—my favorite month of the year. I've already created a 31-day list of Halloween movies to watch every night. In light of the coming month, and I swear this isn't a pun, what's your favorite scary movie? (You probably read that in the voice from Scream) If y'all want to stay updated on my really exciting life, follow me on Snapchat- ellelisabethh.