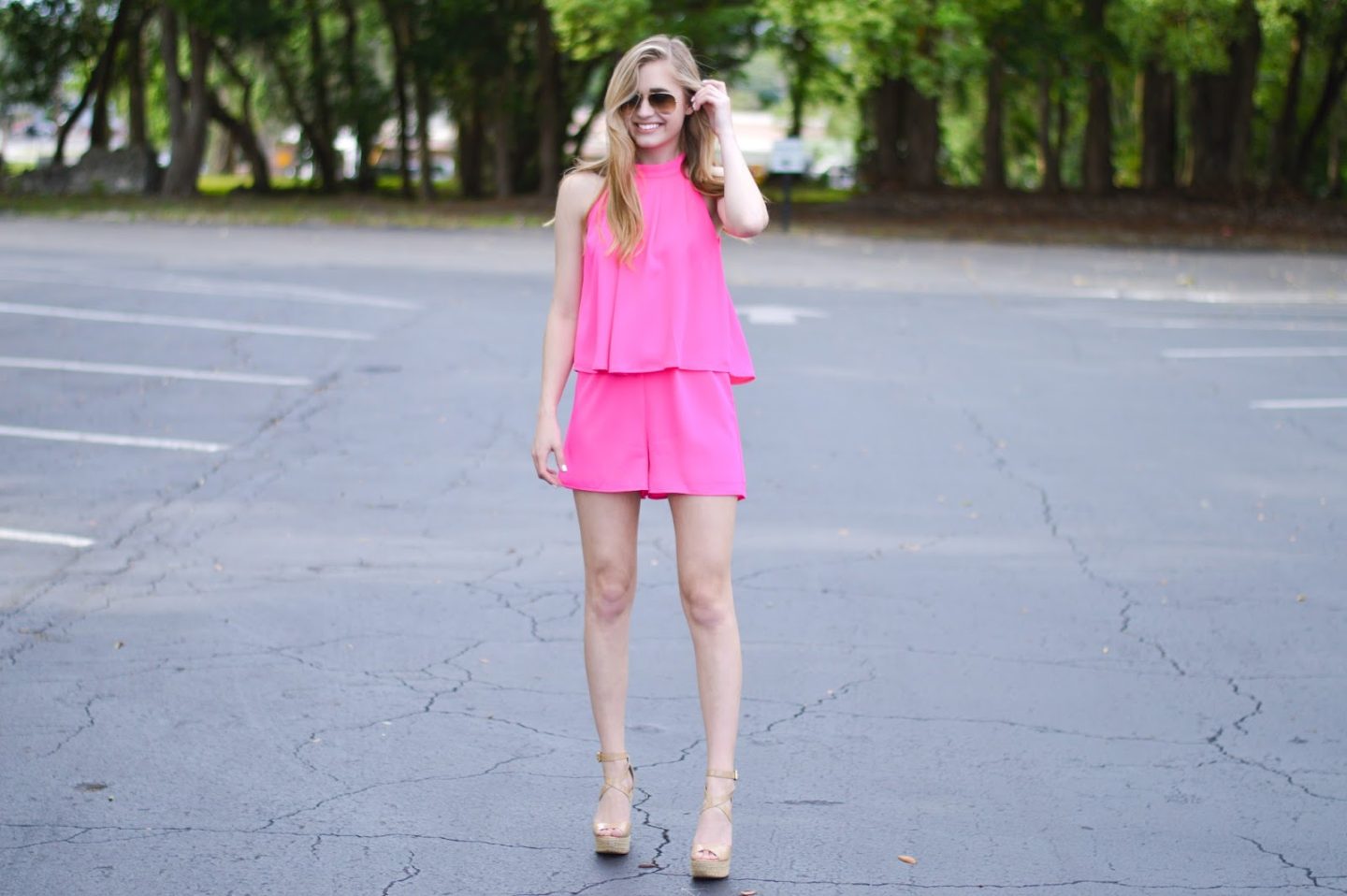 It's been the hottest week in Florida (necessary to wear a hot pink romper). I have always hated the heat, but I love cold weather. I'm naturally a hot-natured person, so I wanted to share my favorite products that help me challenge the heat — maybe they can help you too!
1.
Batiste Dry Shampoo
// I
truly
can't say enough about this amazing product. I have tried other dry shampoos. I really have. I tried Wella, Dove, Sebastian, Pureology….I just haven't found one better than Batiste yet! I think that what I like the most about Batiste is that it's lightweight and doesn't make your hair feel dirty. I found that a lot of the others that I've tried have a texture feel to them so that you can add volume to your hair. I just like stuff that makes my hair look and feel clean and refreshed!
2.
Freeze It Hairspray
// This stuff is the
best
if you're looking for something that's actually going to hold your curls in! This is a quality product that I can't live without. I will run to Walgreens at 10 p.m. with wet hair and a t-shirt and flip flops on if it means I won't have to get up in the morning before I get ready to go get it. I may have to look into purchasing this stuff in bulk on Amazon.
3.
Hide & Glow Seek
// Okay….so this isn't technically something that helps me out in the heat, but it does make me look tan when I'm paler than Bella from the first Twilight movie. All it is — is a shimmery bronzing mist that you can spray and rub on your arms and legs. It gives you a little bit of color and a healthy glow without having to get in a tanning bed. It doesn't develop over time, it's more of a leg makeup, but it's fantastic.
4.
THE Wet Brush
// This hairbrush has been a Godsend! I bought it a long time ago — at least a year and a half ago, and my hair has actually grown! When I was in high school, I was
convinced
that my hair wouldn't grow. I thought that I had damaged it too much with highlights, but this hairbrush completely changed the game with my hair.
5.
Mitchum Clinical Deodorant
// Dove used to be my go-to deodorant always, but I decided to switch it up because I was feeling like I needed a change. Ever since I made the switch, I can't go without. This stuff is like the hairspray for me, I have to have it all the time. I keep one in my purse and reapply whenever during the day. It's the best!
6.
Evian Facial Spray
// This spray is great when you're trying to beat the heat. It's a cool mist that you spray on your face when it's too hot outside — or you can use it for anxiety! I know so many people that carry the mini bottles in their purse and use it for anxiety. The only downside is that you can't take it on a plane or into a theme park. ):
7.
Kate Spade Body Spray
// I've actually never tried this body spray, but I've read great reviews on it. I love to have a spray in my purse that I can reapply during the day when I need to freshen up. I love the body sprays by Victoria's Secret too!
8.
Philosophy Body Spray
// This is another product that I haven't tried yet, but would love to try! It's on my list of things I want. I love the Philosophy brand and every scent they have, so I'm sure I would love this spray!
9.
Antibacterial Body Wipes
// Ok, this is something I
seriously
need to try. I have always had an issue with my skin, especially in the heat, so I've been looking for something like this for quite some time. I am going to try them out and post an update soon. Email me if you want to know sooner (: styelled@gmail.com
P.S. The romper I have on isn't available online, but we have one left in-store, so if you love it and must have it, just give us a call! Speaking of the store, have I mentioned that I love my job!? I get to stare at clothes all day and post them on Instagram — basically a dream.
!function(doc,s,id){ var e, p, cb; if(!doc.getElementById(id)) { e = doc.createElement(s); e.id = id; cb = new Date().getTime().toString(); p = '//shopsensewidget.shopstyle.com/widget-script.js?cb=1461952819604?cb=' + cb; e.src = p; doc.body.appendChild(e); } if(typeof window.ss_shopsense === 'object'){ if(doc.readyState === 'complete'){ window.ss_shopsense.init(); } } }(document, 'script', 'shopsensewidget-script');
!function(doc,s,id){ var e, p, cb; if(!doc.getElementById(id)) { e = doc.createElement(s); e.id = id; cb = new Date().getTime().toString(); p = '//shopsensewidget.shopstyle.com/widget-script.js?cb=1461952819604?cb=' + cb; e.src = p; doc.body.appendChild(e); } if(typeof window.ss_shopsense === 'object'){ if(doc.readyState === 'complete'){ window.ss_shopsense.init(); } } }(document, 'script', 'shopsensewidget-script');