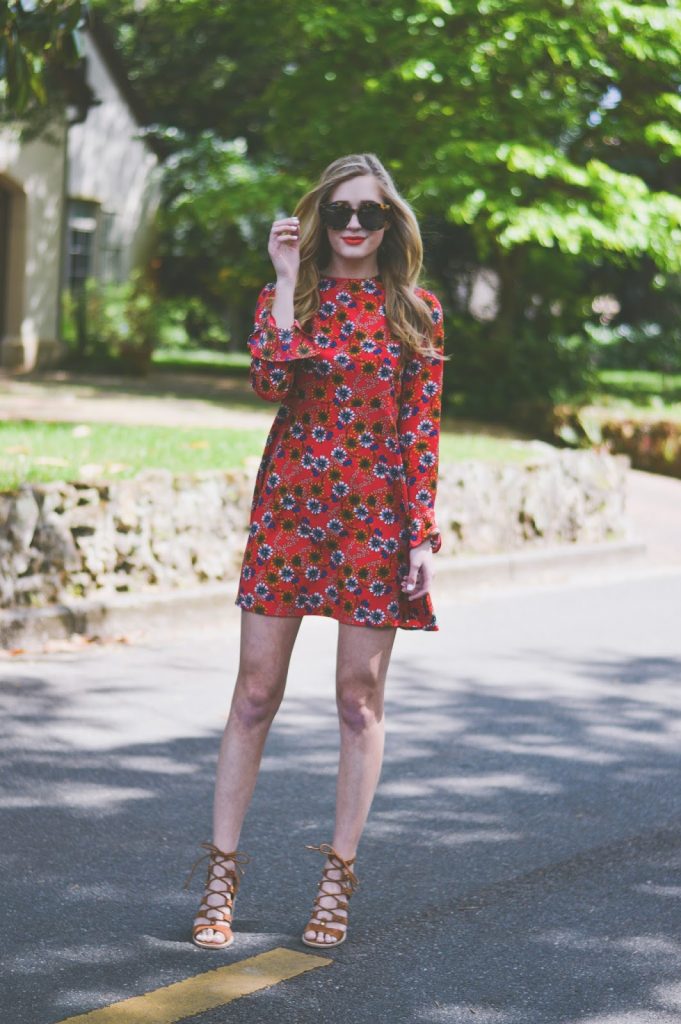 When I first saw this dress — in dillards, I was shocked! I usually never shop in Dillards, but I was there with my boyfriend and my eyes were instantly glued to this dress. I couldn't believe I found something I actually loved. So it got me thinking…
Florals and bell sleeves are very in right now. Why not do a post about 70s style dresses?! I really felt like I was channeling my inner Marcia Brady when I wore this dress. I loved it. Anyway, I'm currently laying on the couch in a ball of fuzzy blankets because I have strep throat. Luckily, I have nothing better to do than to post on my blog. I took these pictures on Saturday when I was feeling…kind of sick. I usually take vitamin c and just brush it off, but this virus got the best of me.
I really want to do a post on my favorite hair care products, so if anyone is actually interested in that — let me know! Below, I added a widget with my exact outfit and underneath is a widget with similar dresses that I like. Happy Wednesday!
!function(doc,s,id){ var e, p, cb; if(!doc.getElementById(id)) { e = doc.createElement(s); e.id = id; cb = new Date().getTime().toString(); p = '//shopsensewidget.shopstyle.com/widget-script.js?cb=1461181814814?cb=' + cb; e.src = p; doc.body.appendChild(e); } if(typeof window.ss_shopsense === 'object'){ if(doc.readyState === 'complete'){ window.ss_shopsense.init(); } } }(document, 'script', 'shopsensewidget-script');
!function(doc,s,id){ var e, p, cb; if(!doc.getElementById(id)) { e = doc.createElement(s); e.id = id; cb = new Date().getTime().toString(); p = '//shopsensewidget.shopstyle.com/widget-script.js?cb=1461181814814?cb=' + cb; e.src = p; doc.body.appendChild(e); } if(typeof window.ss_shopsense === 'object'){ if(doc.readyState === 'complete'){ window.ss_shopsense.init(); } } }(document, 'script', 'shopsensewidget-script');