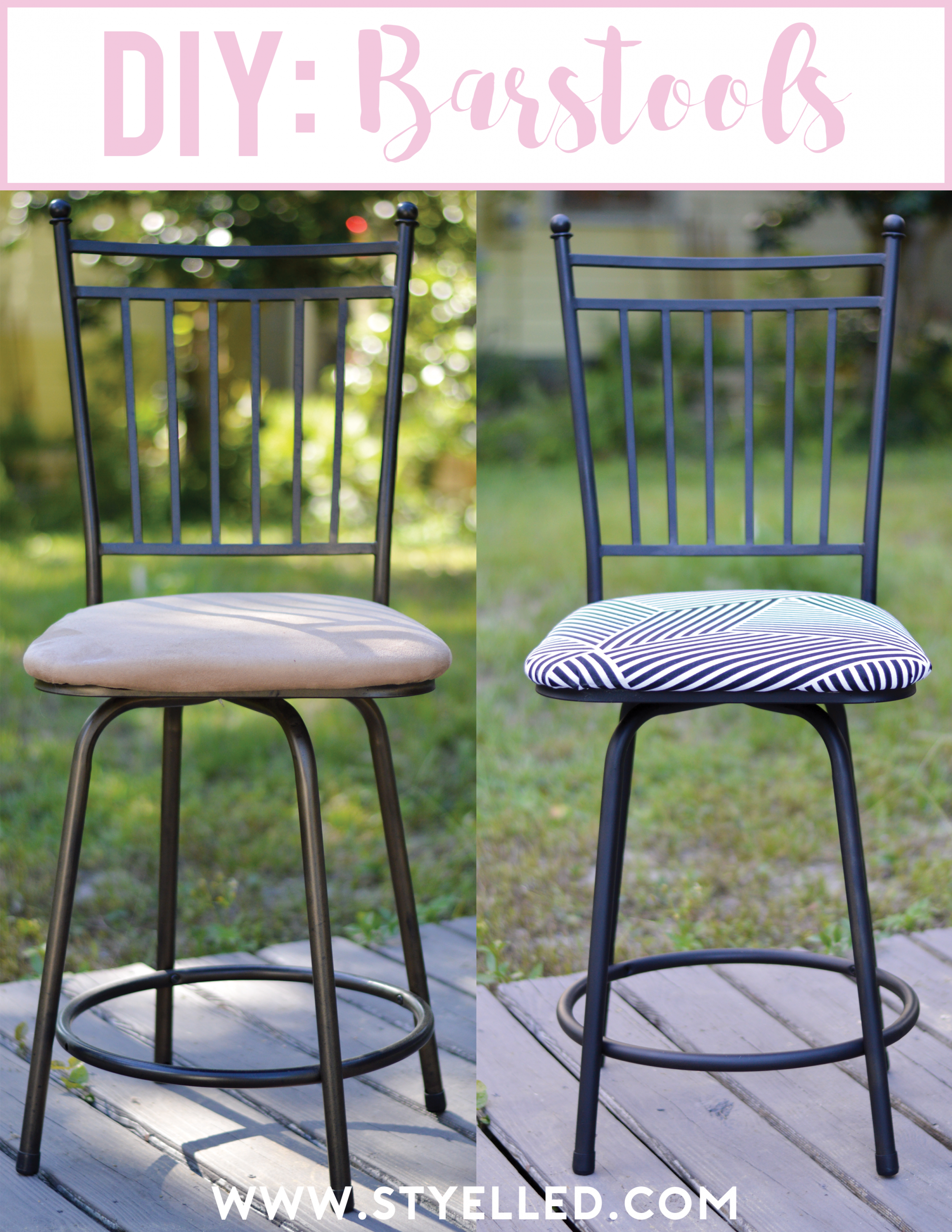 Rustoleum Spray Paint (I got the Flat Black color) // Fabric (50% off!) // Staple Gun
Disclaimer: Before this, I had never tried a DIY project in my life.
Why I decided to DIY…
It was a Sunday like any other, I woke up and sat on the couch with my cup of coffee and started mapping out what I had to do this week. I'm a huge list-maker. I make lists for everything. My lists usually consist of weekly tasks, monthly goals, blog goals, things I want to do, and so much more. I looked up and couldn't take my eyes off of my hideous bar stools. For a long time, I've wanted to either get new bar stools or re-do the ones I already had. I decided that it was time to bite the bullet. I should mention, these are actually my boyfriend's bar stools, so I never would have purchased them in the first place, but I wanted to work with what we had. In total, this project cost me less than $30.00! This is why I think that it's so worth it to DIY, especially if your project turns out great!
A little research…
Prior to picking anything out, I did a little bit of online research so I knew the right kind of materials I would need to complete this project. I ended up going to Joann Fabrics and bought Flat Black Rustoleum spray paint, a light duty staple gun and some super cute Nate Berkus fabric. The fabric was in the home decor section, so it's made for furniture. This is optional, but I ended up getting an extra pack of staples just in case. (I'm glad I did, because I needed them!)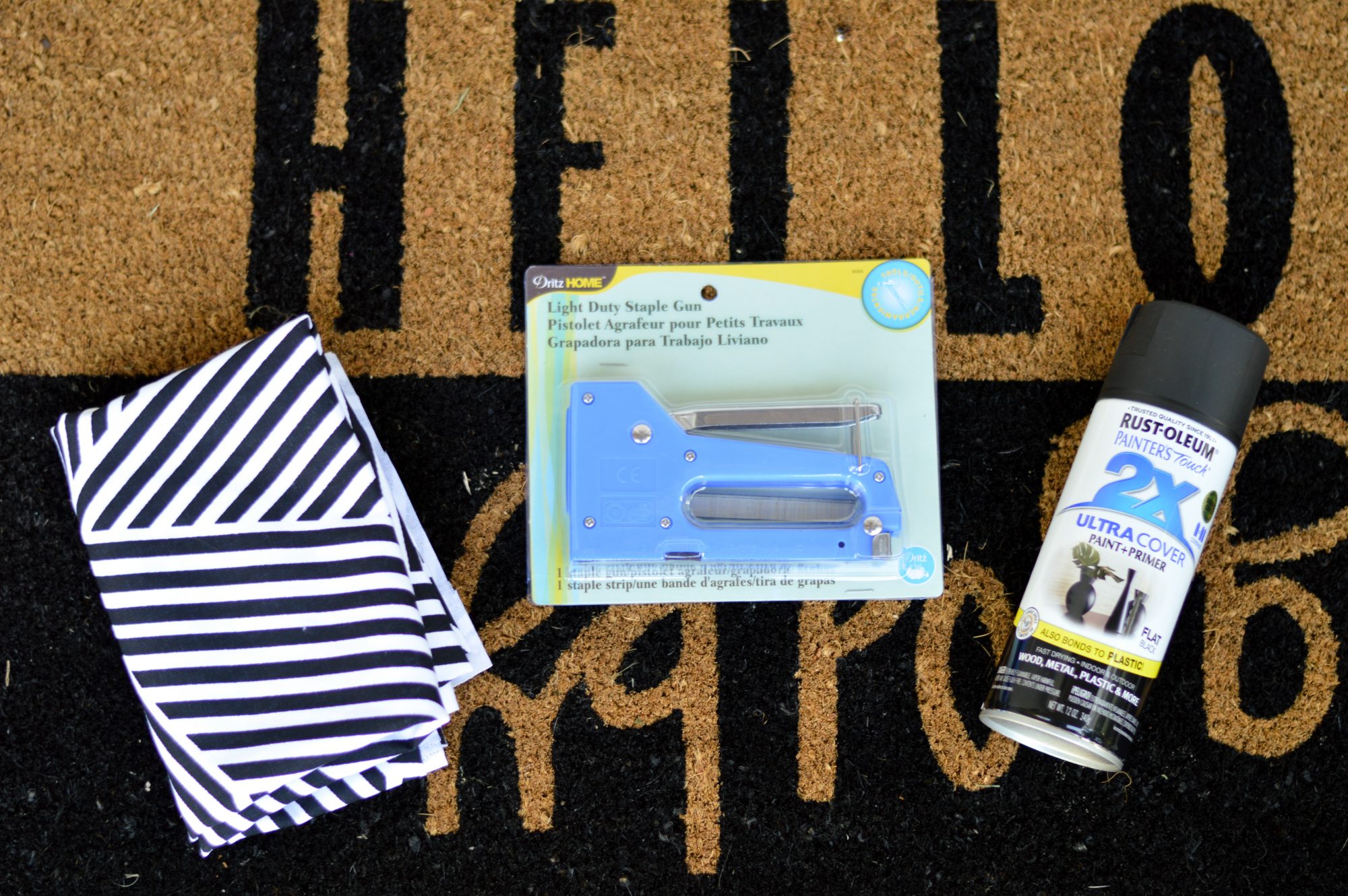 Here's How I Did It…
Step One
Detach the cushion from the stool before doing anything else.
Step Two
Clean off chair with either a feather duster or a paper towel with Windex. You want it to be clean and wiped down before applying the spray paint.
Step Three
Now, you are ready to spray paint! I did this outside in order to escape the fumes and so that the chairs would dry faster. I also chose to do this early on so that I could put the cushions on as soon as I finished them. Hint: If you live in Florida, cover yourself in bug spray before attempting this outdoor activity.

Step Four
After applying about two light coats of spray paint on each chair, let them sit and dry. Then, set up a small space to remove the original fabric from the cushions. For this, I used a small flat head screw driver to shove underneath each staple. Once I heard the pop of it coming up, I used pliers to pry it out. This took about 15 minutes per cushion.
Step Five
Once the original fabric is removed from the cushion, place the new fabric underneath the cushion and begin wrapping it around and stapling. Be sure to pull the fabric tight to avoid any ripples or excess space on the cushion.
Step Six
Make three gathers at the rounded corners of the cushion to avoid awkward rippling of the fabric.
Step Seven
After you're done, cut away any excess fabric, staple on the matting and reattach the cushion to the chair. Voila! You've successfully completed your first DIY project!I hope you enjoyed my tutorial! If you have any questions or if I left out any crucial details, email me at styelled@gmail.com and I'll respond as quickly as possible! Happy Tuesday!