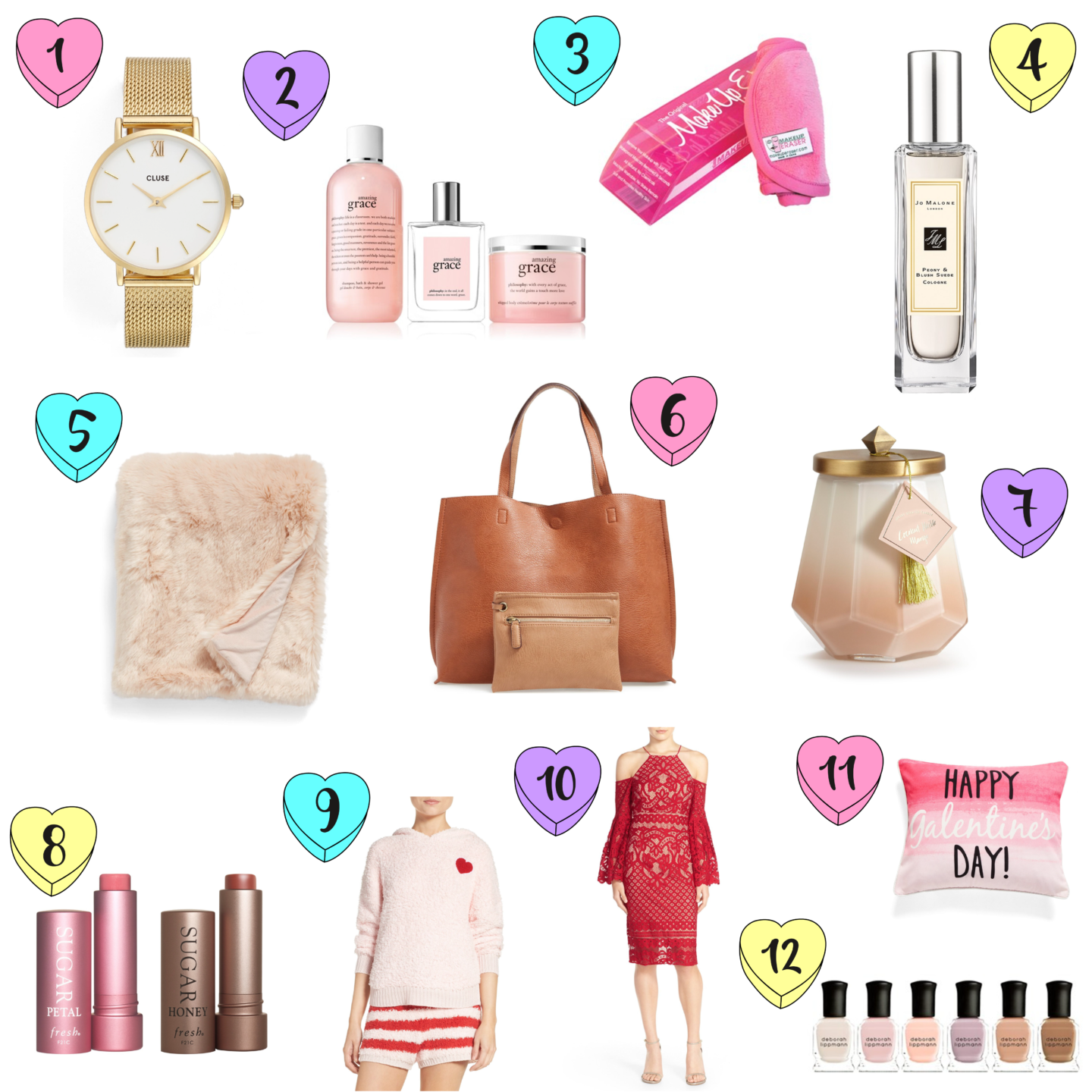 Do you Struggle with Picking Out Gifts?
Well, sometimes we all do! This gift guide is perfect for any girl in your life—whether it's your mom, best friend, girlfriend or wife. All of these gifts are classic items that women love! If you're trying to stray from the traditional bouquet of roses, one of these gifts will be sure to shine! Perfume, nail polish, lip balm, candles, a pretty watch or a new tote—you can't go wrong! What more could a girl want?
A Little About my Valentine's Gift Picks!
1. Cluse Gold Watch
This watch is so beautiful, classy and minimal. This year, one of the biggest style trends is being minimal, which means simplicity. Gold tones go with almost everything, and I'm sure this watch will go with any bracelet or outfit you pair it with. I know it's on my wish list this year!
2. Amazing Grace Collection by Philosophy
I have heard so many great things about Philosophy products. Amazing Grace smells feminine, fresh and clean. This collection includes perfume, shampoo, bath and shower gel. It's a steal for only $57 ($85 value).
3. Makeup Eraser
I don't know about you, but I'm always using the hand towels in my house to wipe my makeup off. The makeup eraser removes 100% of your makeup using just water. How amazing is that? It's also machine washable for up to 1,000 washes!
4. Jo Malone Peony & Blush Suede
This signature perfume by Jo Malone is always my go-to. All of their scents are fresh and luxurious. Not to mention, the girls that work in the Jo Malone station at Nordstrom are always extremely helpful and kind.  Jo Malone perfume is a must-have for any girl.
5. Faux Fur Throw Blanket
Girls love faux fur. It's very in-style. This blanket is perfect for cuddling up in the morning with a cup of coffee.
6. Street Level Reversible Faux Leather Tote
I love the fact that this tote doesn't have a giant logo stamped on it. The simplicity of this tote makes it an everyday staple item. I would love to have one! It would go with every outfit!
7. Illume "Laurel" Candle
I love every scent by Illume! Their candles last a long time and the smell radiates throughout your whole house. You don't even have to smell their candle to know that you'll love it. Their scents are always clean and refreshing!
8. Sugar Tinted Lip Treatment
I have heard GREAT things about this lip collection. Sugar has SPF 15, hydrates, moisturizes and softens the lips. Sounds perfect to me! It's basically a lip balm that looks like a lip stick!
9. Honeydew Intimates Cuddle Bug Hoodie
This hoodie looks so comfortable and perfect to wear in the mornings. I love the simple style of it and the soft colors. I'm sure it's very cozy!
10. Women's Bardot Cold-Shoulder Lace Dress
If you're looking for the perfect dress to get your lady for a Valentine's Date night, this is the one. It's pretty, red and classic. If you're buying it for yourself, it's a great deal since it's marked down to $77!
11. Happy Galentine's Day Pillow
This pillow is perfect to give to one of your girl friends! I would definitely give this to my sister! It's cute and a fun home accent.
12. Deborah Lippmann Undressed Nail Polish Collection
What girl doesn't love neutral nail colors? I love them! These colors can be versatile throughout the year. With warm colors and cool colors, you can be wearing them all year long!
I Hope this Guide Helped!
I know I'll be using it to shop for my friends and family! Valentine's Day is right around the corner, so don't wait until the last minute! Last but not least, happy bachelor Monday! I'll be live tweeting during The Bachelor, so go follow along!