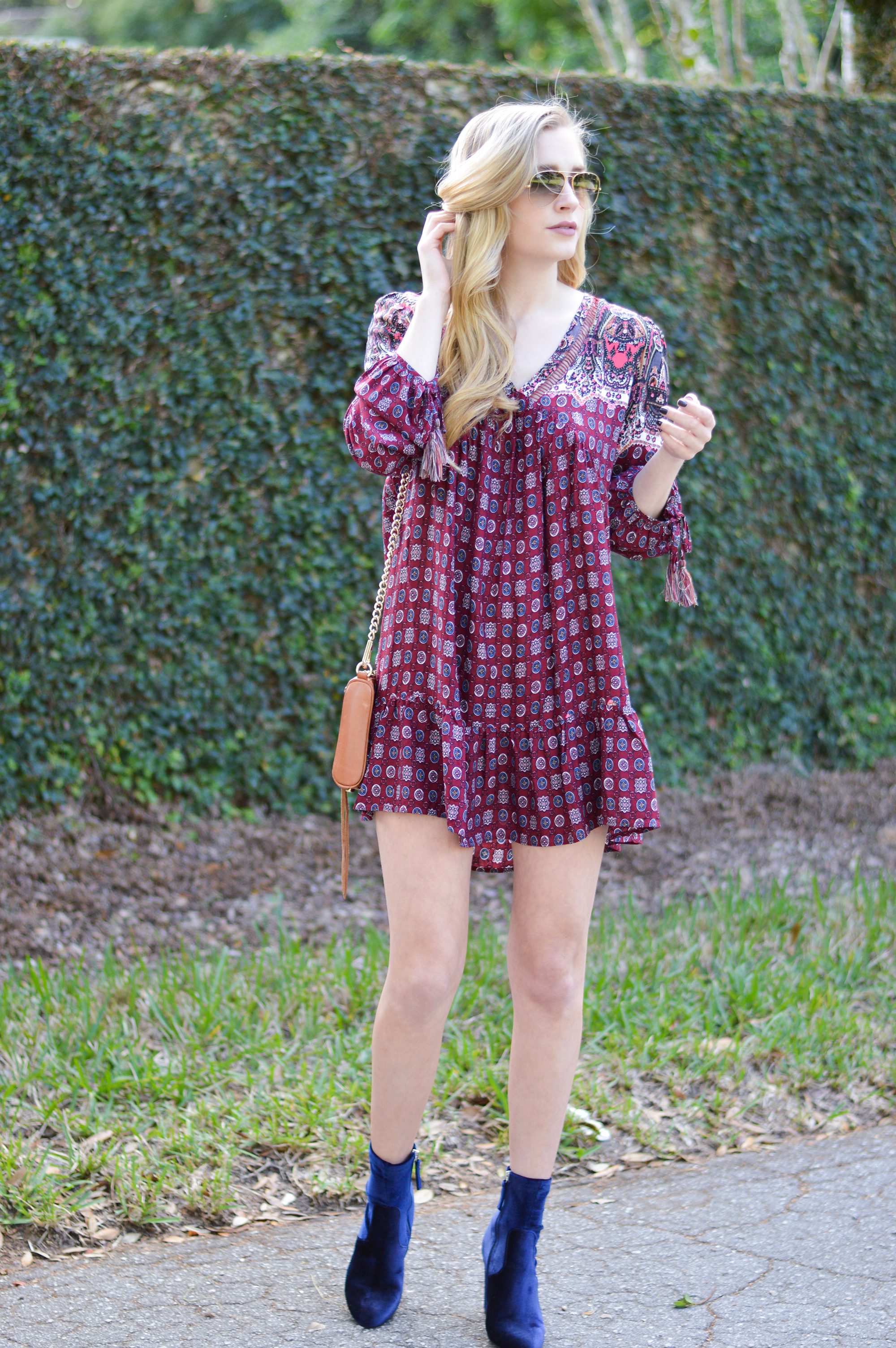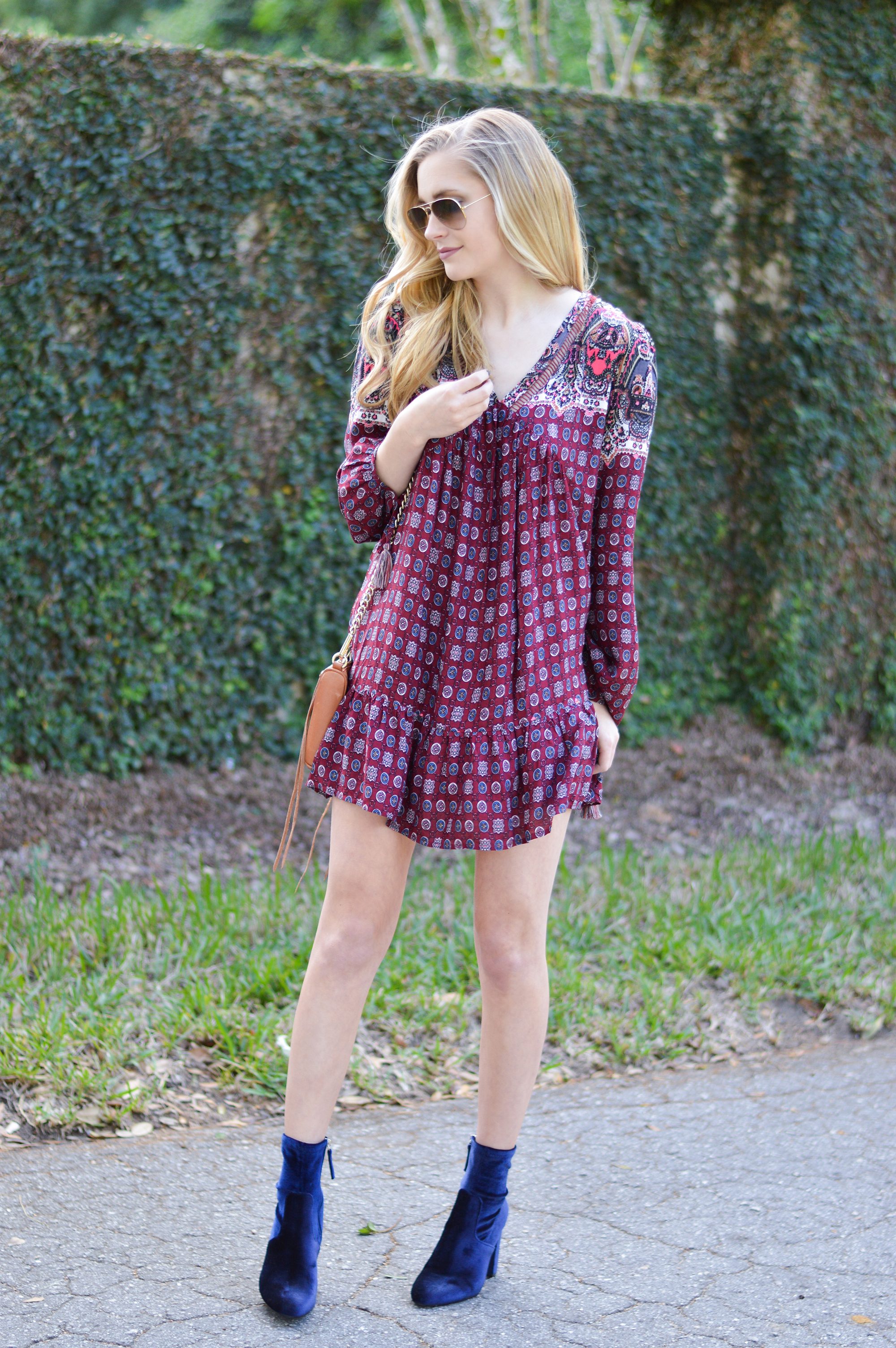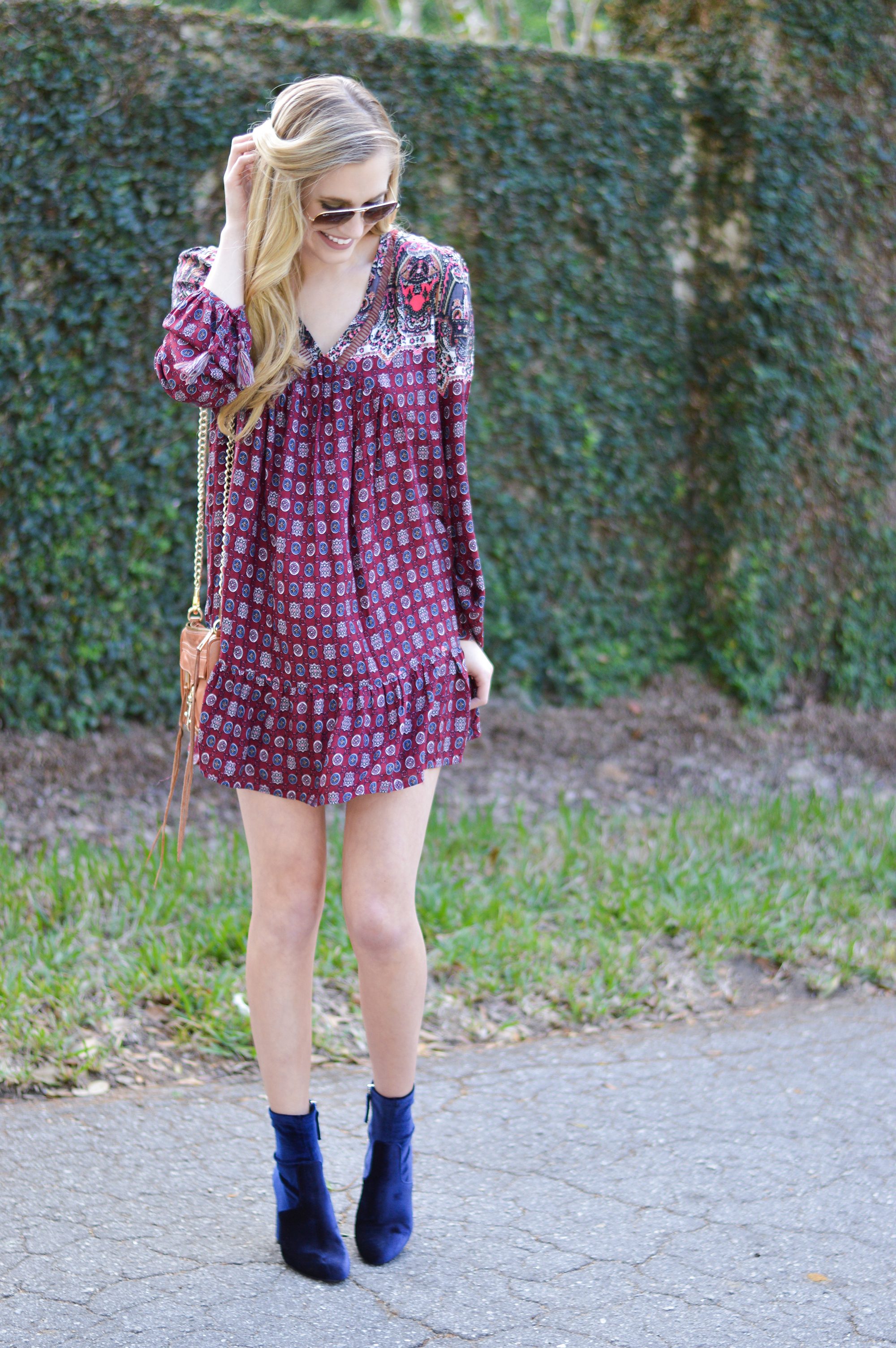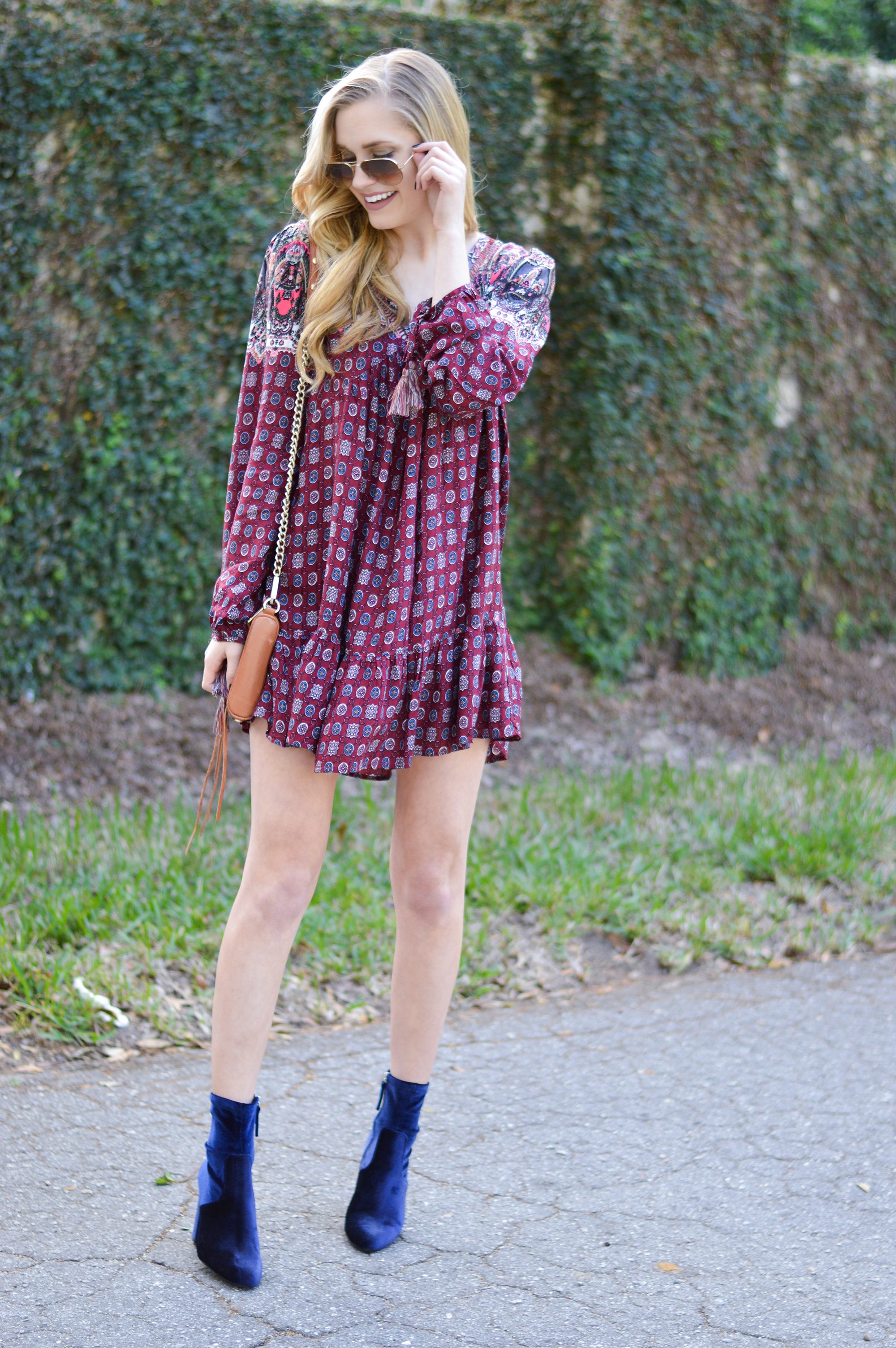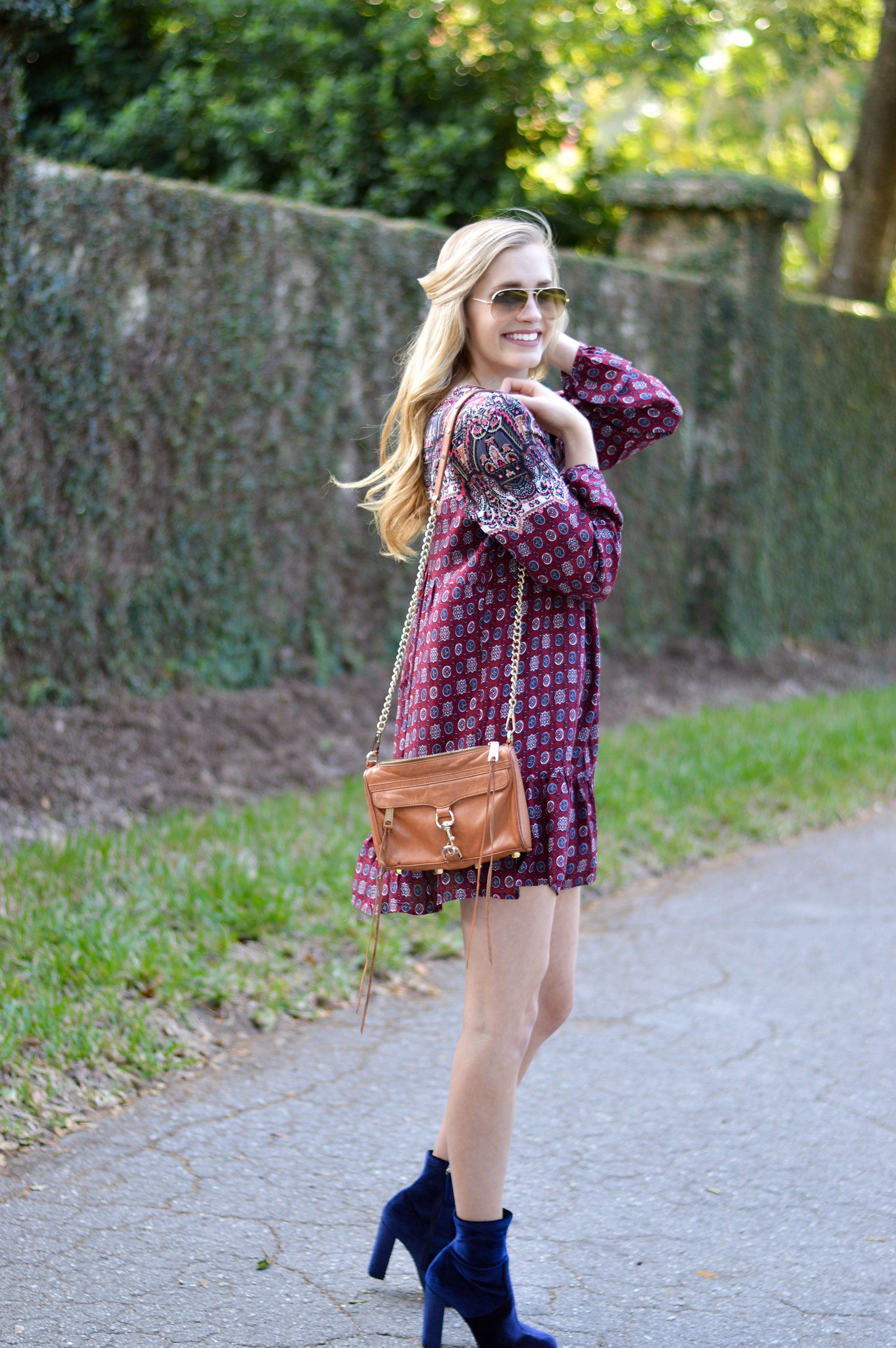 Dress // Velvet Booties // Crossbody // Sunglasses // Lip
It's a suede and velvet take-over!
Last year, it was all about the velvet. Well, this year, it's all about suede—and velvet. Basically, if you want to look trendy and fashionable, just go to your local Forever 21 and buy a suede dress and a pair of booties. If you don't have room for that in your budget, swap clothes with a friend! Being in college, I do this often. My friend Kelci and I always swap clothes when we get bored with our own. It's easier that way and you spend less money. Save the big purchases for when you are married and have a real adult job!
Another thing that's very in right now is dark colored lipsticks. As all of you have probably seen by now, Kylie Jenner is killing it in the cosmetic department. Unfortunately for me, her lip kits make my lips a little itchy. Thankfully, Birchbox came through and sent me a sample of Stila's new liquid lipstick. Let me just say—it goes on smoothly, it smells amazing and it doesn't bother my lips, which is really all that matters. Anyway, if you're experiencing the same problems that I did, try out Stila's lipstick and let me know if you like it any better!
How to find the perfect fall dress
These days, it seems like everything I love is $500. Well, I'm here to tell you there are other options. You may shop the pages of Revolve everyday and tell yourself that you'll save up for this or that, but you don't have to have one brand over another. If you're my age, then just remember that you're young and no one expects you to carry a Louis Vuitton, wear Celine sunglasses or shop the racks of Nordstrom and Neiman Marcus. I used to think that in order to succeed as a fashion blogger, I needed money. That's not necessarily true. I've always felt strong about quality over quantity.
The dress I have on in the pictures is LESS THAN $40! You can get it from a cute, family-owned shop in my hometown. Check out their website! If you're going for a certain look but you have a budget, check out local shops in your area, Forever 21, Francesca's, BooHoo, Missguided and NastyGal (it's pricier than the others, but they always have good sales). Again, you can always shop the online store in my hometown because the clothing is good quality at a fantastic price!
Updates
Now that October is over and November is getting started, that means it's officially Christmas season (at least it is in my book.) I've already put on two Christmas movies today while working. I'm not crazy, I just love the holidays. I've been online shopping even though I have no money lol. I have my eye on a few things—suede dresses, velvet booties and some chokers. Does anyone remember when chokers were all the rage in the 90s? I love when 90s trends come back. Anyway, since I've been updating all of you with the progress that Winston has been making, I might as well keep that up. Winston is officially, 100% potty trained. PTL. He loves playing with the loudest squeaky toys, pulling toilet paper off of the roll, chasing toys into walls and rolling around in the grass. He's getting bigger and goofier. I love watching him grow!
Ryan and I are adjusting to our crazy Fall schedules and we're having a good time decorating and getting ready for the holidays together. This is our second year of holidays together, so we'll be able to add to our collection of decorations! We got so many Christmas ornaments last year—I'm excited to pull them out and hang them up! What are all of you most excited for this year? Thanksgiving, Christmas or just everything? What's your favorite holiday tradition?!