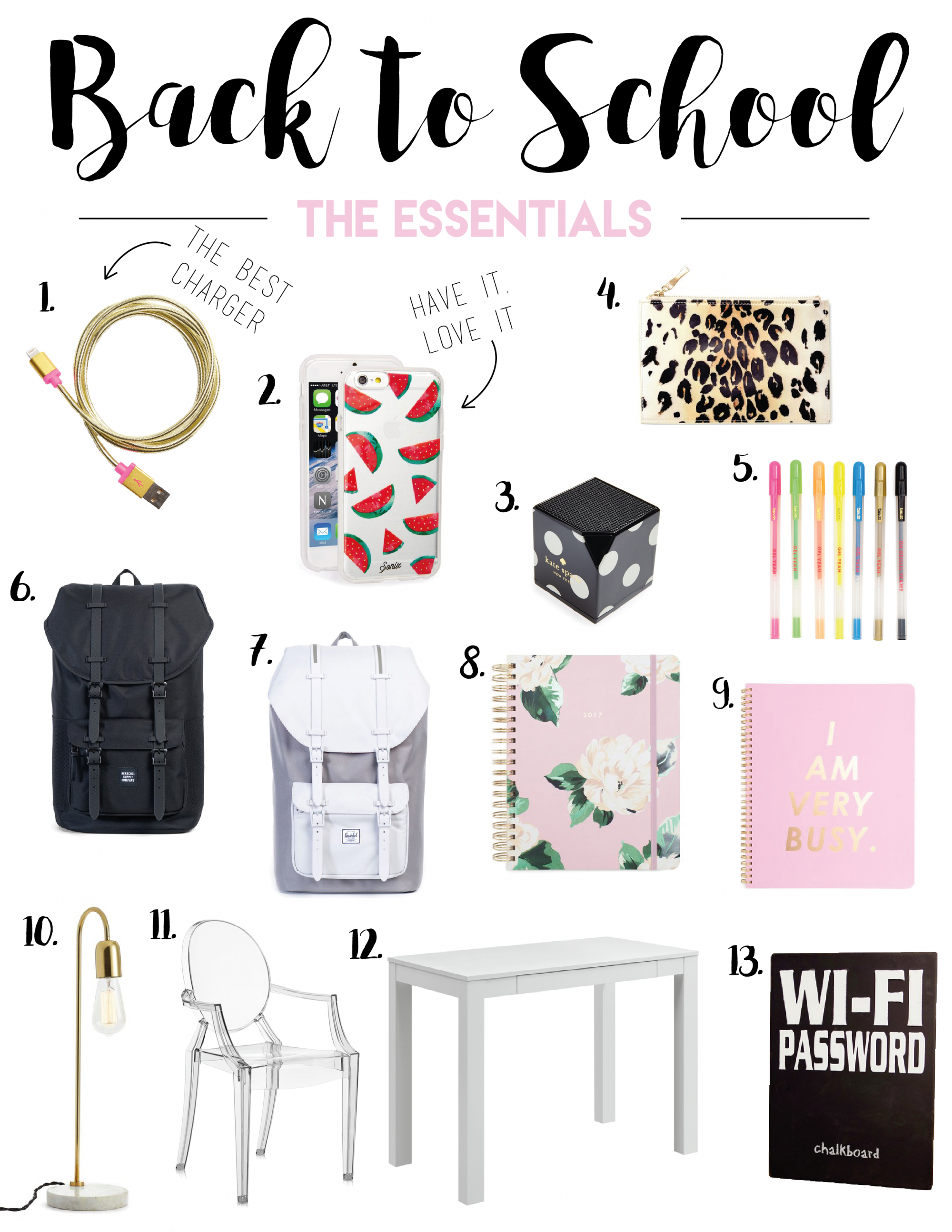 I love back to school shopping! Don't get me wrong, I hate going back to school, but I do get a little excited if I have cute stuff. Whether it's a backpack, a cute agenda or a fun pencil case—it's important that you go to school in style. Ban.do makes the best agendas, in my opinion. My agenda last year was the perfect size because it could fit in my backpack and my purse. Herschel makes the best backpacks. If you're anything like me, you probably carry your laptop around with you everywhere. My Herschel backpack has a fur lined pocket in the back where you can slip your laptop right in! I loved having that special space for my laptop. So when you're back to school shopping this year, consider all variables before purchasing. Quality and style makes for the greatest combination.
1. Gold Charger
I have this charger and it is so great. Ban.do makes it and it's durable, long and metallic gold. What more could you ask for?
2. Watermelon Phone Case
I have this phone case! Ever since I started using Sonix phone cases, I can't go back to any other case. I'm not going to say that I drop my phone a lot, but I will say that it protects my phone every time! *Knock on wood* I've never shattered my phone screen.
3. Bluetooth Speaker by Kate Spade
I don't have this exact speaker, but I know someone that does and they love it! If you're looking for convenience, this is the speaker for you. If you're looking for quality and don't mind spending a little extra, then I would check into the Bose speakers.
4. Kate Spade Pencil Case
I have the gold polka-dot pencil case they made last year and I loved it! It's thin, so it fits great in a backpack. It's lined on the inside and the zipper on it is strong, so you don't have to worry about it breaking. Also, it's really cute. You can't go wrong.
5. GEL PENS!
Gel pens are fantastic for studying! They do give you a little flashback from the 90's, but they are good for writing notecards because you can color coordinate your subject material. I don't know what I would do without mine!
6. Herschel Backpack in Black
Herschel made this same backpack in Kelly Green last year, so I obviously had to buy it. The backpack is such good quality that I don't even think I need to buy a new one this year. As I mentioned before, it has a fur lined slot in the back for your laptop, which is both convenient and protective.
7. If the black color isn't for you, here's the white/grey one.
8. Ban.do Agenda
I talked about this agenda before, but I'll gladly talk about it again. Remember when Lilly Pulitzer was the go-to brand for agendas? Well, this one is so much better. Not only does it have the elastic band that you can use for marking your pages, but it has plenty of room for writing each week. It also comes with cute stickers for special events you might have coming up.
9. Ban.do Notebook
I think I speak for everyone when I say that notebooks are essential. Usually, I get these cute ones for writing everyday to-do lists or for writing weekly goals, etc. I don't use these ones for taking notes in class. They are more for personal note taking. Regardless, it's always good to have a little notebook to write your own thoughts in.
School Essentials for your Dorm
10. Marble & Gold Table Lamp
I realize this lamp is a bit on the pricier side, but it's so cute! If you go to Target or your local HomeGoods, you can probably find a similar, more cost-efficent one. Target has been getting in some great back to school items, especially form Sugar Paper LA.
11. Ghost Chair
This chair is more expensive but it's cute, light and goes with any decor you could have. They do have the same chair on Amazon for a better price, so check that out if you want to save some money. I do have this chair and I absolutely love it.
12. Simple Writing Desk
This desk is so cute! I love that it's white and has a slender drawer because you can put small notebooks and pencils inside. Having a desk will help you study because when you sit down at one, it will make things easier for you to buckle down and get to it. Turn off your phone and focus on studying. It always helps me!
13. Wi-Fi Password Chalkboard
This is great if you share a dorm room or if you have an apartment with friends. Do you ever have guests over and they all happen to ask you for your wi-fi password? You probably get annoyed by saying it a million times or typing it in everyone's phones for them. This way, it's written down in view so no one has to ask questions!
Now, I did add a few other things to the product widget below that you might love! Also, if you have any questions about what to wear to school or what to wear during sorority recruitment—I'm all ears! Even if you just need advice or someone to talk to, just email me at styelled@gmail.com