DRESS: J.Crew | SUNGLASSES: Quay | RING: Caitlyn Minimal | LIP: Mac, Lady Danger | SHOES: Adidas Superstar | WATER: Boxed Water
You Can't Do it All, All At Once
To those of you who don't know, I got a new job. I absolutely love my job because I get to do what I'm passionate about—graphic design! The only downside to working a 9-5 is figuring out how to manage your time wisely. I've been struggling with this. I've dedicated most of my time to my new job, and I do schoolwork in my off-time, so my blog has kinda been placed on the back-burner. Plus, I'm still a full-time student, girlfriend and dog mom! If it wasn't for Ryan, my family and my friends, I don't know how I'd do it! There's been times that I've contemplated taking a semester off or slowing down on my blog, but I'm not ready to give up! I truly believe this is God's way of giving me strength.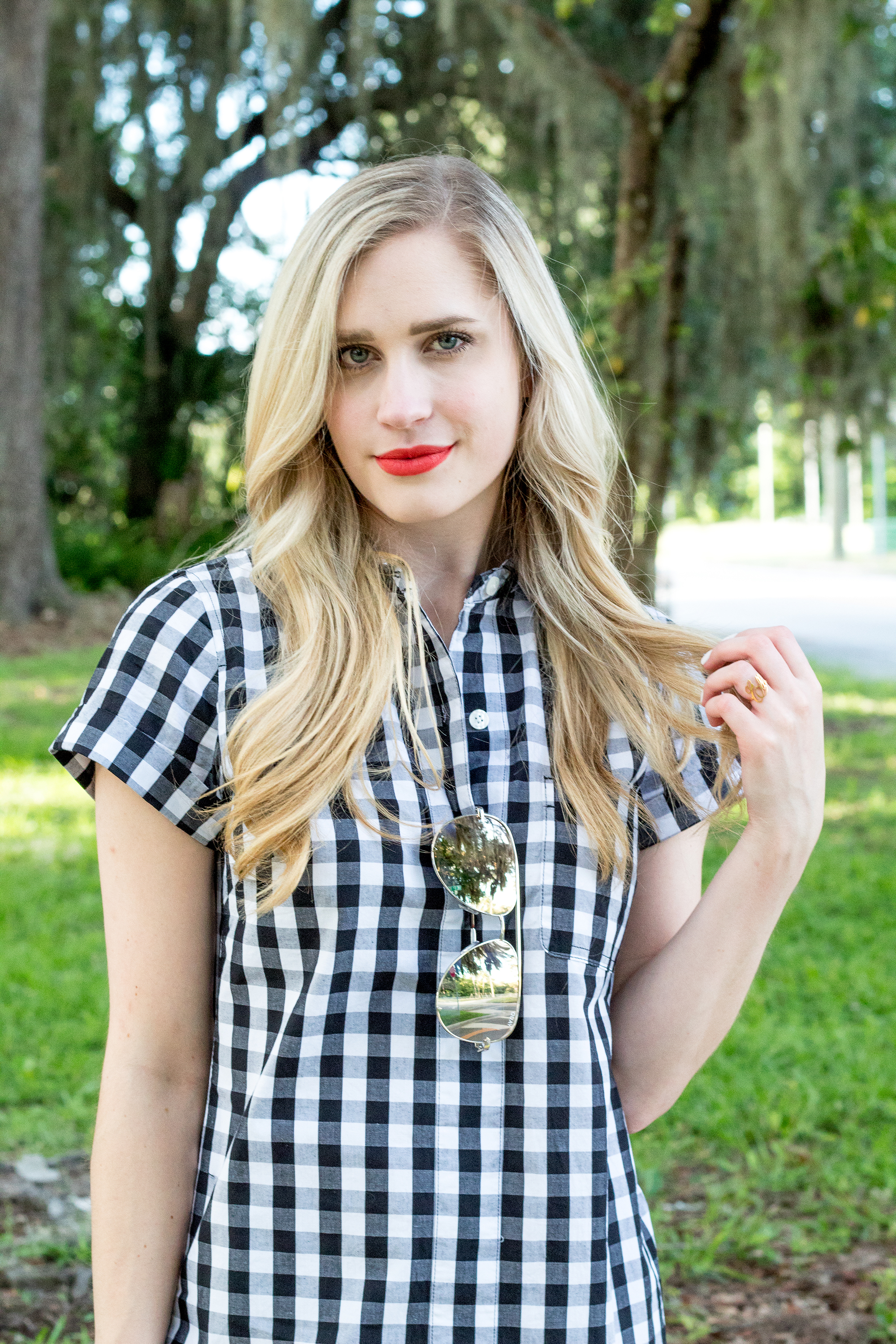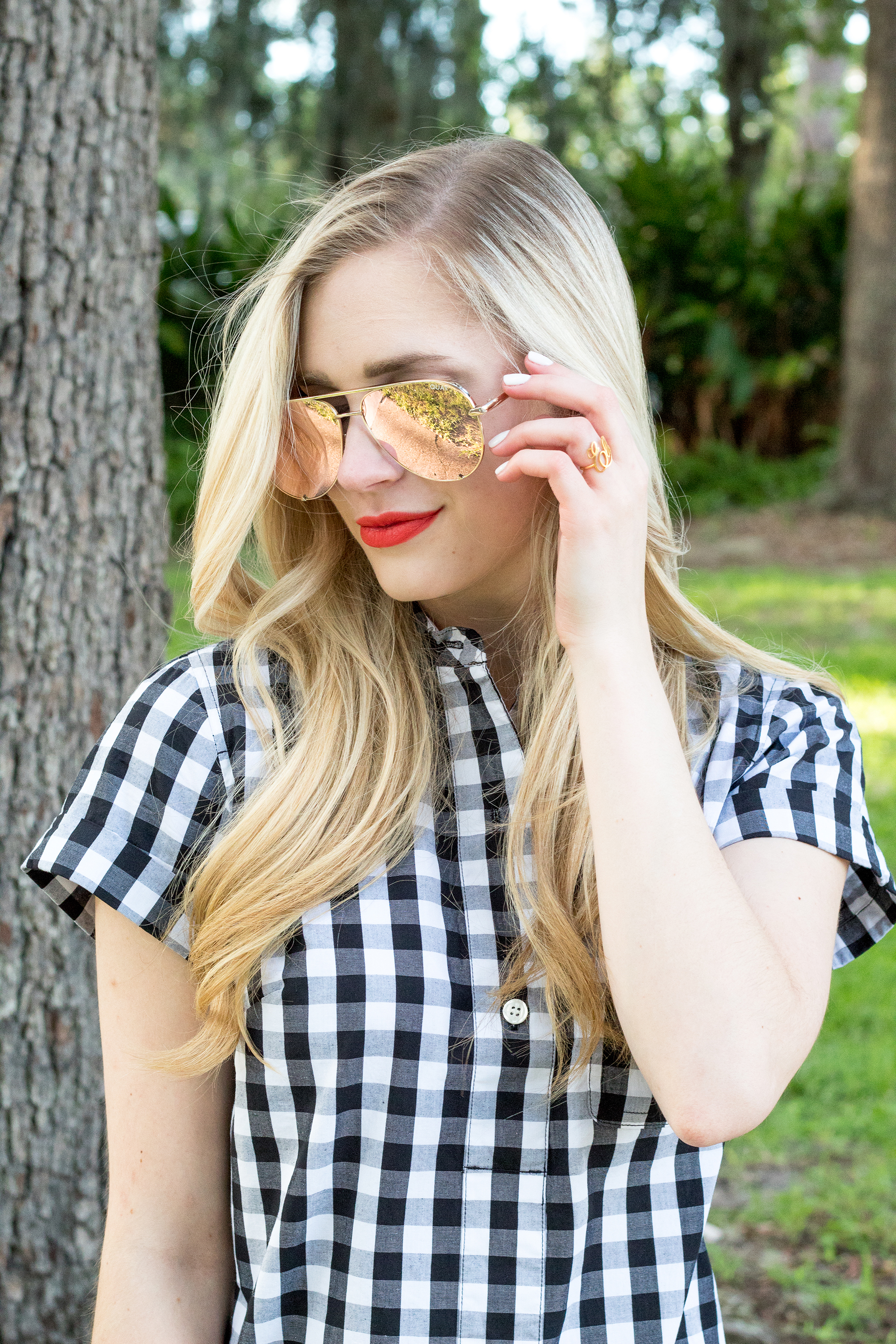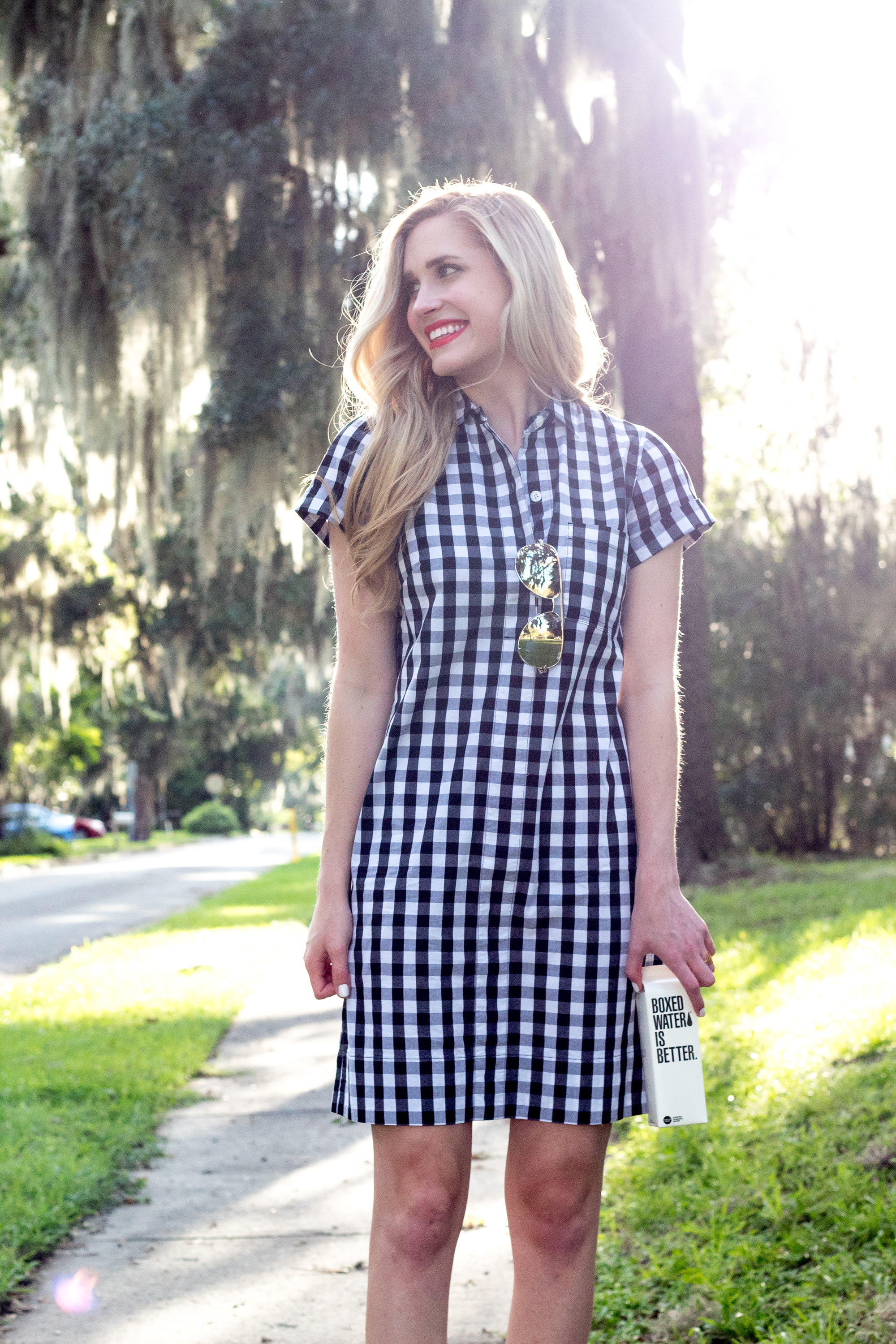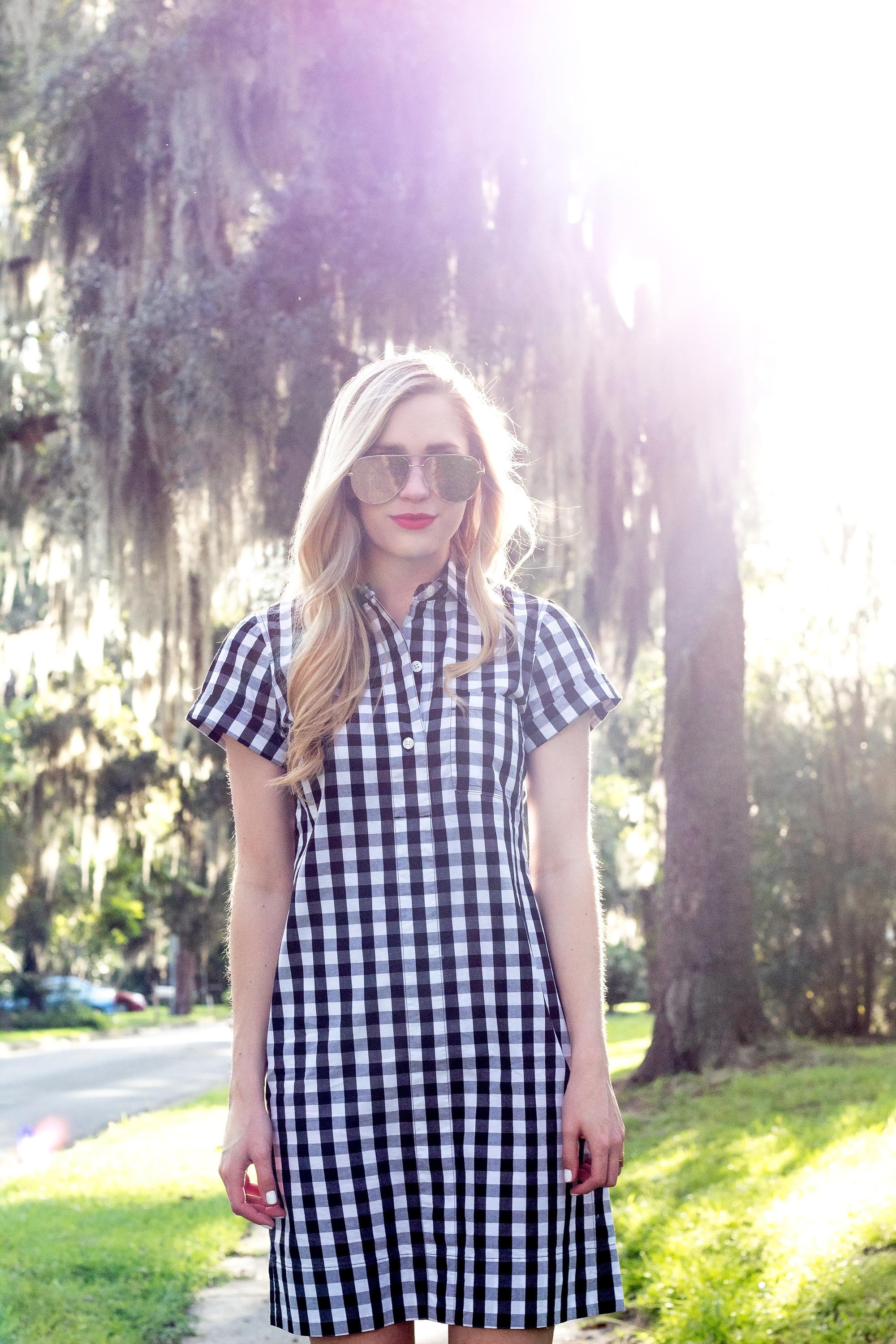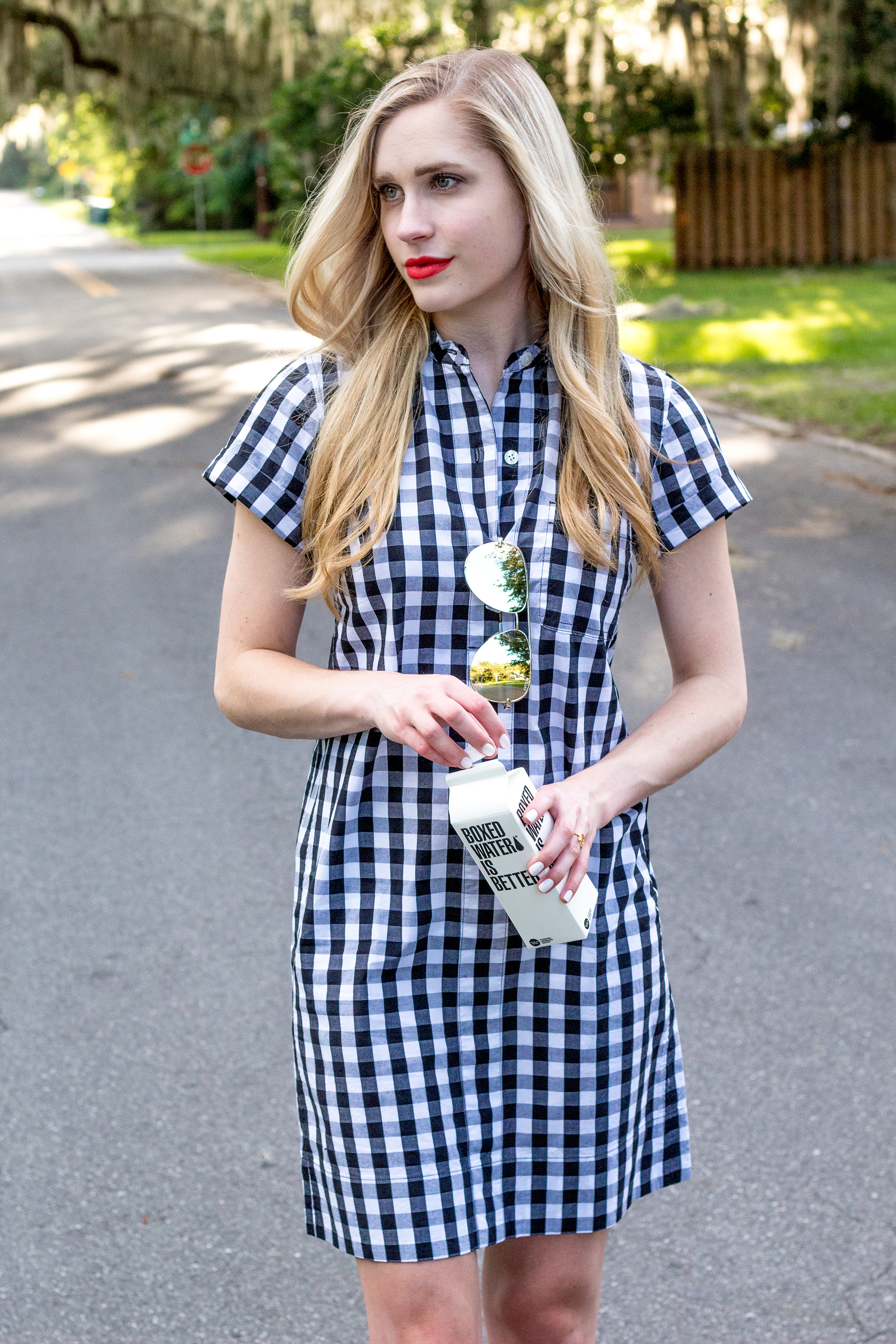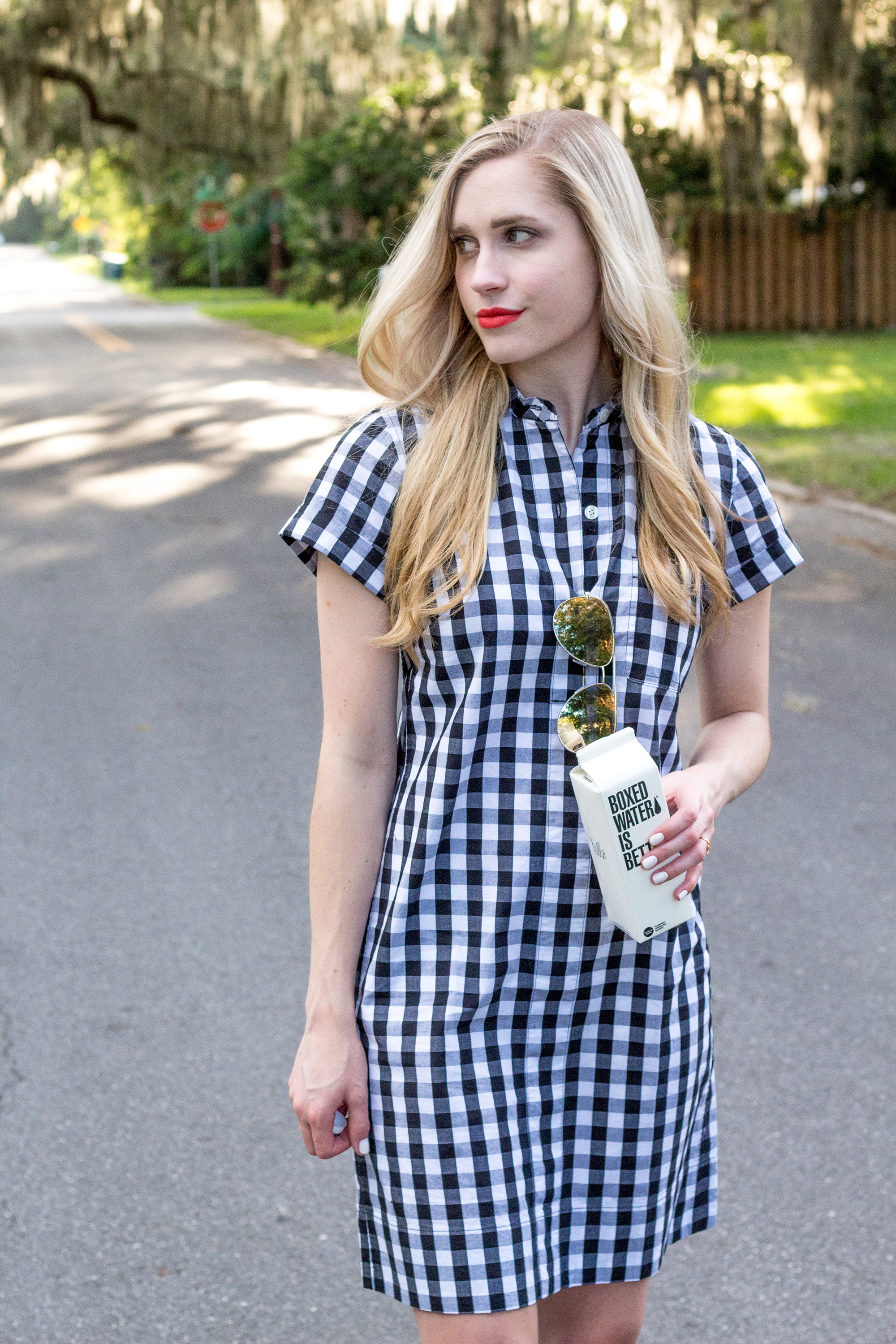 Now, Let's Talk About Gingham
I saw this gingham dress on sale at J.Crew Factory and scored! It's perfect for a simple, everyday look and I can wear it to work. The fabric is lightweight, but good-quality. I have a feeling this dress will become a staple of mine the rest of the summer. There aren't many days left of summer, but I'll make it last! My goal is to get away for at least a weekend before summer ends. Ryan's birthday is coming up soon, so maybe we can get away. Lord knows we need it! It's been so hot all summer long, so I've been cooling down by drinking lots of boxed water and hiding away in my cave at work! Maybe I'll do an Instagram live soon to show y'all where I work, AND you can meet my super cool, funnier than me, boss!
GUESS WHAT
I can't believe I almost forgot! I got to write my very own fashion article in the magazine this month! I talk about the latest fashion trends, including gingham, so click here to go check it out! It was so fun to write it and I will be forever thankful that I was able to talk about fashion in a real publication! It's even cooler that I got to design the article! I tell you what, you guys…God is good!
P.S. If you guys have any questions for me about what it's like being a Creative Director of a magazine or if you have any questions at all…or even suggestions of what you'd like for me to write about next, let me know! Email me! elle@styelled.com Also, thanks to Ryan, sweet man of mine, for taking these pretty pictures of me for this blog post. He always gets all the angles! Lol!