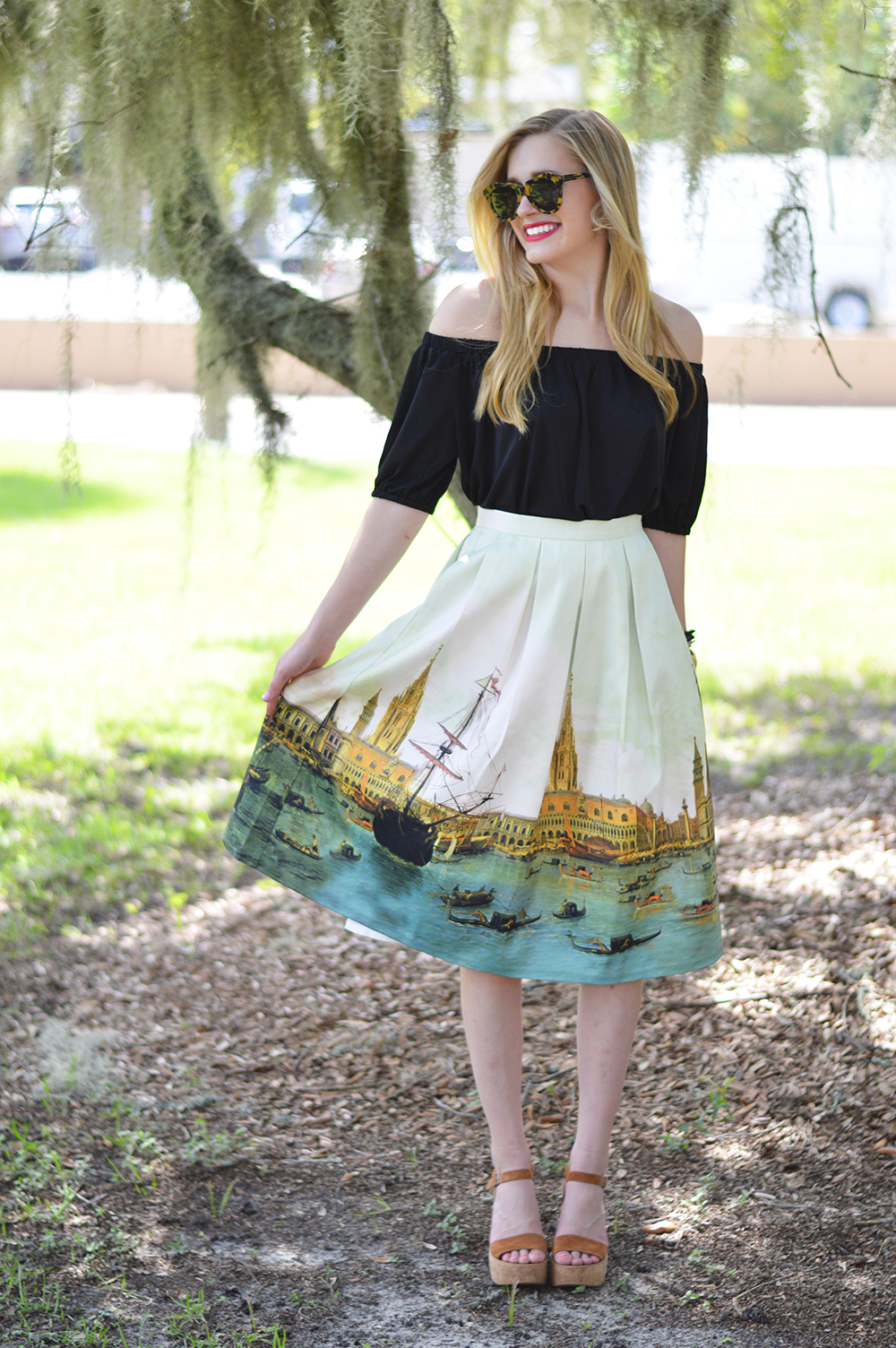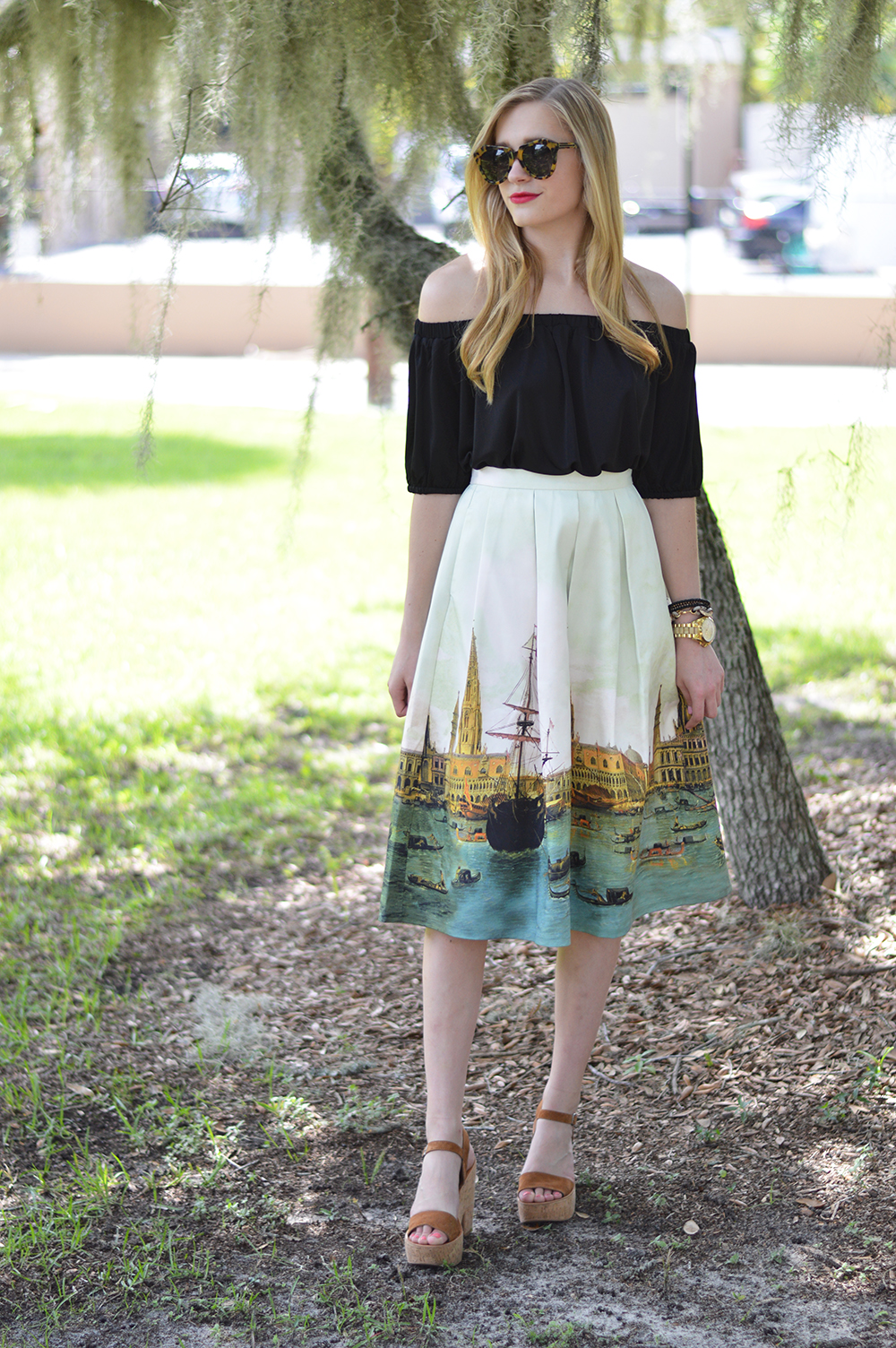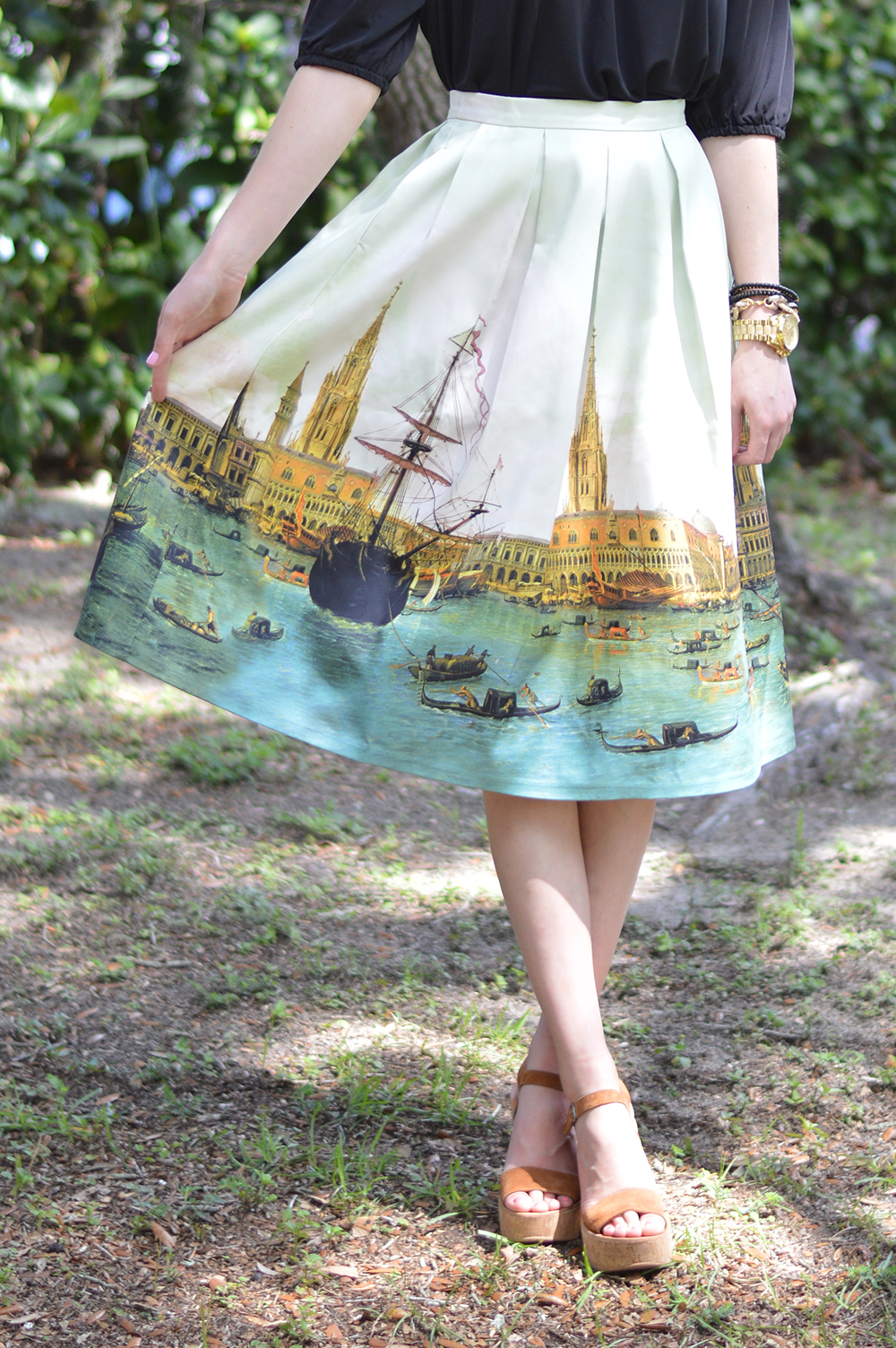 Top // Midi Skirt (I also love this one!) // Platforms // Sunnies // Watch // Bracelet
Midi Skirts are #Trending
Ok girls, so this new trend of midi skirts has been trending this summer. Whenever there's a trend-train I usually jump right in, but I was a little unsure about midi skirts until Blaque Label sent this beautiful midi. The skirt is really comfortable. The material feels soft and silky. That's always a plus in my book. Blaque Label's skirt is so beautifully detailed. The artwork remains consistent all around the back. Even before I saw this skirt, I was already impressed with Blaque Label's collection. Their designers take simplicity to a sophisticated, trendy level. Their clothing is made with quality materials. Even though they may be a little on the pricier side—it's so worth it.
On to the Accessories
These Dolce Vita platforms paired perfectly with this outfit. They have been my go-to sandals this summer. Like all heels, you still have to break them in. After that, they moved up to being the most comfortable heels I own. They go with everything and you can wear them all day long. You keep doing you Dolce Vita!
I wore my staple, watch and bracelet combo from Bauble Bar. Their jewelry is so colorful and fun! They are reasonably priced, so if you're a college student, I highly recommend that you check them out! Sorority sisters that are starting work week and recruitment—I'm talking to you! Bauble Bar is having a huge promotion going on right now, so go take a swing at the piñata to earn a discount on your next purchase!
Yay, Updates!
Summer semester is coming to a close and I am completely worn out! You've probably noticed because I haven't been posting on here as much. Things are about to change! Fall semester may be coming in full swing, but I have so many plans for the blog! Partnerships are coming into play and collaborations are happening! This means that if you're reading this, send feedback! Tell me what you want to hear and see more of! Blogging consistently has been a huge hurdle, but hopefully with more time in the fall, I'll be able to post more often!
The Blaque Label collection items are available in Her Kloset at Greiners.